Bangladesh is a trustworthy neighbor
Neighbors help neighbors - good for everyone!

An obvious idea - usable for many
If neighbors know who is going where and when, many journeys can be saved. Neighbors have very typical destinations that are visited very often. Neighbors can use this platform of mutual trust to connect in order to save journeys.
My neighbors - my own bus route
This website turns random takeaways into a network of systematic neighborhood help. Only the closest neighbors see their own need for trips and the respective demand of the network. These few but very trustworthy people are like a private, own bus route. At the same time, they are a potential messenger who can bring or fetch things.
The reverse applies: An individual can take on messenger services for his closest circle of reliable neighbors or take people with him. A typical example is bringing medicine from town because the pharmacy is on the way. The same applies if a free space is offered for the journey to the main train station.
Nobel laureate Yunus relies on the trust of neighbors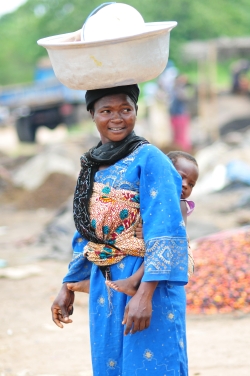 Micro network helps Abiba Munumi in Ghana
@ Opportunity International
Some organizations help the poorest of the poor with microloans. In slums, for example, 10 women receive very small sums. In doing so, they each start a mini-business without having to cede their earnings to loan sharks. As a group, you vouch for the repayment. If a group member is absent, the neighbors take on even more responsibility.
In 2006, Professor Mohammed Yunus was awarded the Nobel Peace Prize for his work in Bangladesh. Opportunity International is a global organization that also uses microfinance to help people help themselves. Neighbors' trust is at the heart of this approach. The women know each other because they have lived together as neighbors for a long time.
Similarly, nhnandf.net relies on trust. A few friendly neighbors are enough to build an effective network for everyday mobility. The experience of the first months shows that three to four neighboring families are enough for this!

People without internet access can also take part!
The first practical examples have been published on our blog. The basic idea has already been used in a variety of ways. The biggest saving was a distance of 30 km - for 175 g of special tea. An experience from October 2010 shows how a neighbor was able to save a trip even though she is not registered with nhnandf.net.
Everyday life takes place in the immediate vicinity
Most people only move in a small region in everyday life. According to the famous 80-20 rule, probably 80% of all people live 80% of their life within a radius of 10 km - 20 km. Transport needs are constantly emerging - but only for short distances. And it is precisely in this area that "neighbors help neighbors" wants to bring supply and demand together.