Why is pop culture obsessed with pizza
I wanted to start a hot dog business in Oslo - and failed terribly
When my semester abroad began in Oslo, I first wanted to know what was going on in culinary terms in the Norwegian capital. What would I try? Would I completely succumb to Nordic cuisine? And originates Gravlaks really from Norway or have I lumped all of the Scandinavian cuisine together?
"We eat tacos on Fridays and pizza on Saturdays," said my new Norwegian roommate at the kitchen table. "Norwegians love pizza." Even today, four years later, this sentence still resonates with me. Because it hits the nail on the head.
In 2004, the Norwegian population ate 50 million pizzas, which made them the global leader in terms of per capita consumption. With Lørdagspizza There is even an established pizza ritual there. The most popular pizza brand is Grandiosa. In 2004, almost 20 percent of the Norwegian population said that they regard the spongy and comparatively expensive frozen pizza as one of the national dishes. And in 2006 the (admittedly very catchy) song "Respekt for Grandiosa" stayed at the top of the Norwegian charts for eight weeks.
OK, in Oslo there is also a fine restaurant, Maeemo, which has been awarded three Michelin stars. Nevertheless, during my semester abroad I quickly discovered that culinary ingenuity in Norway often stops at the front door to the supermarket.
---
**Also at MUNCHIES: ** Making Danish hot dogs is an art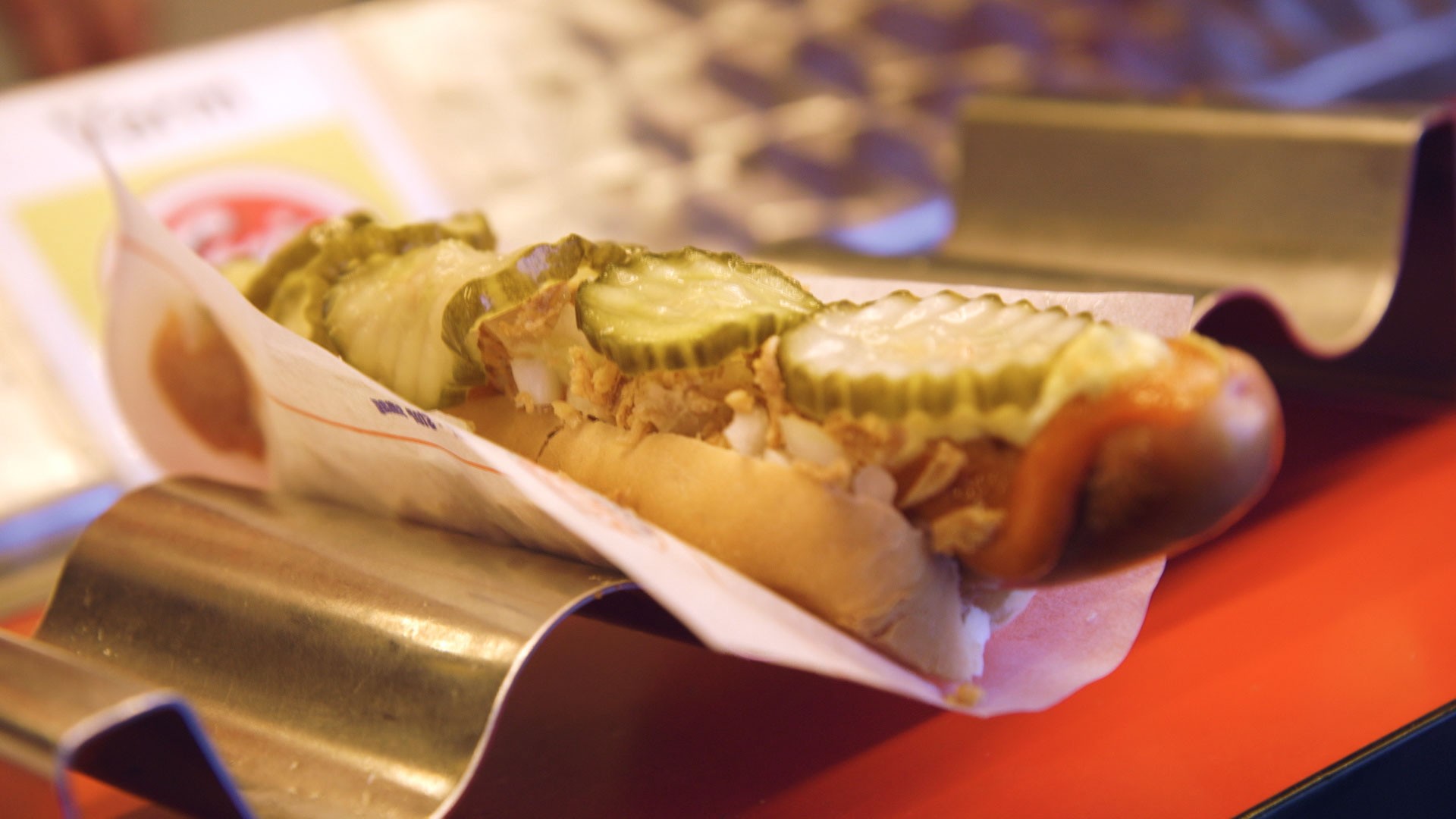 ---
Because Norway is not exactly known for delicious pizza and tacos, the answer from my roommate made me rather pessimistic. Through my research, I found out that, thanks to North Sea oil discoveries, it was only from the beginning of the 1970s that Norway was able to expand its range of local dishes beyond traditional farmer's dishes. Before that, Norway was a poor country where, because of the climate, very little fruit and vegetables could be grown.
In the past, a lot of cooked mutton and turnips were used in Norwegian cuisine. However, the country grew richer and globalization went unstoppable. "Exotic" dishes also found their way - in this case tacos and pizza.
Although wealth and a strong economy do not necessarily mean a good food culture, it at least allows you to import types of fruit and vegetables that you cannot grow yourself. In addition, such economic circumstances attract immigrants, who add even more diversity to the food culture.
The author eating a taco with her roommates | All photos: private
Still, I was sure that the Norwegian kitchen had more to offer than just frozen pizza and tacos with watery minced meat. Of course she did, but it took me a while to really confirm that - mostly because I had just moved to a country where fewer people live than the city I grew up in. I felt lonely and broke all the time. Everything is incredibly expensive in Norway and I couldn't afford frozen pizza for the equivalent of 6.50 euros. Nor could I do the things that normally distract me from my boring existence because of it.
But then I found a way to find out more about Norwegian eating habits without spending a lot of money: I made up my mind to sell my fellow students late at night hot dogs. In retrospect, it was quite a crazy idea, but at the time I felt brilliant. Norwegians eat their hot dogs (Pølse) in flatbread-like wraps called Lompe. I named my little business "Ruby's Pølse" and put up posters in the university. It also had the number of a disposable cell phone I bought for people who would rather place their order over the phone. The plan was then to deliver the hot dogs wrapped in aluminum foil to the hungry students.
I'm not sure why I thought it was so smart at the time. Ultimately, my day-to-day business was as follows: I sat alone in my little student kitchen on Friday and Saturday evenings and begged the cheap Nokia cell phone to finally ring. Ruby's Pølse only existed for three weekends. During this period, exactly one order came in and I ate the majority of the 30 hot dogs prepared myself. Perhaps the Norwegian student world was simply not ready for my neo-capitalist fast food concept.
Of course, during my year in Oslo, I managed to eat more than just frozen food and processed foods. So I also collected fresh chanterelles and cooked them with them Risgrøt a typical Norwegian dish (rice pudding with butter, cinnamon and sugar) and tried different types of cooked and braised meat (yes, including reindeer). I only went to restaurants when I was invited. In the university cafeteria I came across the best dish in Norway: Vaffler. For a few crowns I got a freshly made waffle, on which I always put butter and the caramel-tart goat cheese Brunost clapped. The whole thing was washed down with a sip of coffee. I often made the waffles in my dormitory myself, because every Norwegian household seems to have a waffle iron. I also ran a cynical coffee blog where I wrote about everything except coffee. Norway is obsessed with it.
It was four years ago that I studied in Norway. The local food scene has definitely evolved since then. I just hope that my ex-roommates will eat something other than frozen pizza on Saturday evenings.
This article originally appeared on MUNCHIES UK.
Follow MUNCHIES on Facebook and Instagram.
Get the best of VICE emailed to you every week!
By subscribing to the VICE newsletter, you consent to receiving electronic communications from VICE, which may contain advertising or sponsored content.