Mohammed cartoonist must continue to fear for his life
Kurt Westergaard's life changed completely three years ago. His drawing of Mohammed with a bomb as a turban had caused most of the outrage in the Islamic world. Danish flags were burned in public, diplomatic relations were frozen and Danish products boycotted. And most of the cartoonists from back then don't want to talk about it anymore because they are still afraid.
Life in a fortress
In January 2006 the anti-Danish protests escalated in the Arab world
Westergaard, the cartoonist for the Danish newspaper "Jyllands-Posten", also had to go into hiding, and that has not changed much to this day: he still lives under the protection of the Danish secret service PET and the Danish police. It was not until February of this year that an attack on Westergaard was thwarted. Three men were arrested at the time. He has moved a total of nine times since the cartoons were published. And he and his wife also lived in his current house under constant observation, reports the now 73-year-old. It was like being in a fortress, cameras were installed on the outer walls for surveillance, all doors had been reinforced with steel, and the bathroom was now a shelter.
Too old for fear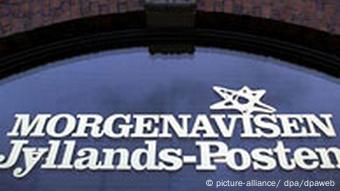 The "Jyllands Posten" is still Westergaard's employer today
Despite his old age, Westergaard still goes to work regularly. And he doesn't let himself go shopping either. But no matter where the draftsman goes, a bodyguard is always close by. He has found his own way of dealing with the ever-present danger of falling victim to an attack. "I reacted with anger," says Westergaard, "and that is a very good feeling when you are threatened. It means that you feel that you are fighting back." And then, he continues, he has at least one advantage over his colleagues, who are also threatened: "I'm 73 years old, and at that age you are no longer so scared."
Drawings never regretted
Westergaard still feels little sympathy for the protests and their consequences that were triggered by the Mohammed cartoons three years ago. In any case, he has never regretted his drawing. After all, as a draftsman, one must be allowed to use satire. In addition, Denmark is a country that has done a lot for the integration of foreigners. But despite this, freedom of the press and freedom of expression must continue to apply, because it is a great asset, says Westergaard. Westergaard nevertheless prefers to avoid the question of whether he would make such a drawing again. However, he does not see himself as the culprits for the escalation, but rather the fanatics who abuse Islam for their own ends. And in this opinion he knows the majority of Danes behind him. Even among the predominantly moderate Danish Muslims, the Mohammed drawings are no longer an issue. After all, it's just caricatures, nothing more.