Auckland is safe at night
10 things I will never hear or see about New Zealand again
! Updated March 24, 2019
Not that we get ourselves wrong: We love New Zealand! What we don't find so great is the stereotypical image that the tourism industry conveys of the "country at the other end of the world" (and here we already have one of the endlessly repeated clichés ...). Little by little, the same sayings and the "curiosities" that are mentioned in every travel report about New Zealand are really annoying!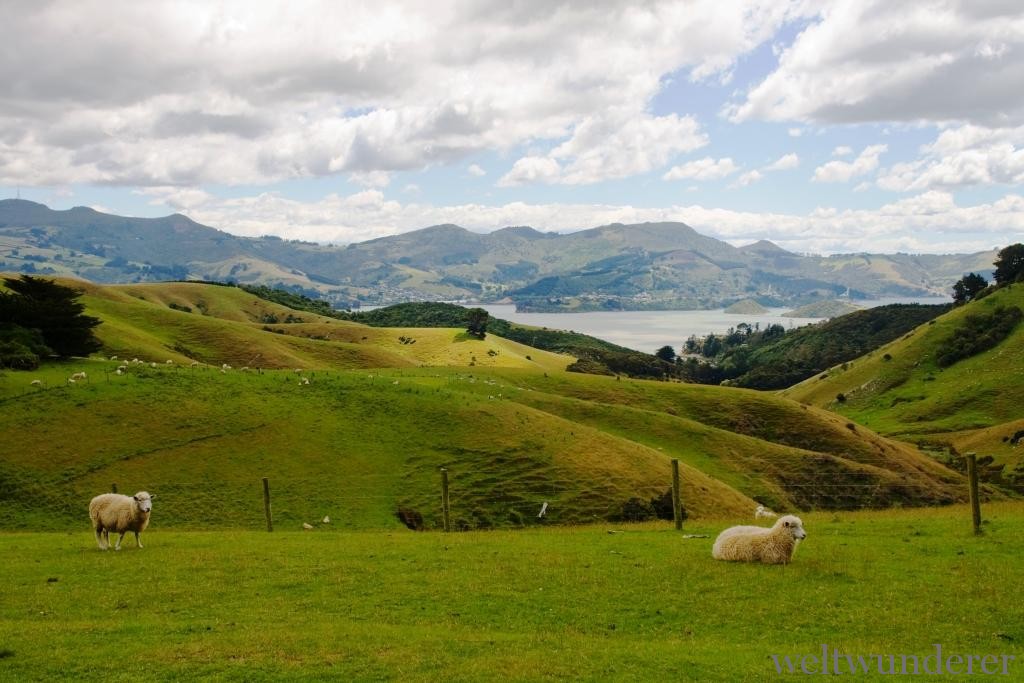 100% pure New Zealand - really?
10 things about New Zealand we can't hear anymore
1. New Zealand's quirky sights
New Zealand's number one attraction, if you believe the main travel guides: the Hundertwasser toilet in Kawakawa. Folks, it's a loo! And it wasn't even built by a New Zealander! Then there are huge corrugated iron boots, sheep, trout and carrots.
Believe it or not, New Zealand actually has other highlights to offer (even if not necessarily architectural ...).
2. "There are more sheep than people in New Zealand."
It sounds like New Zealand is teeming with sheep. Apart from some areas, it hasn't done that for decades - dairy cows are now the new heroes of the pasture.
By the way, there are certainly more possums - which says much more about the state and the problems of the country.
3. Absolutely secret kiwi insider knowledge
"The kiwi is a bird AND a fruit."
... oh no, really?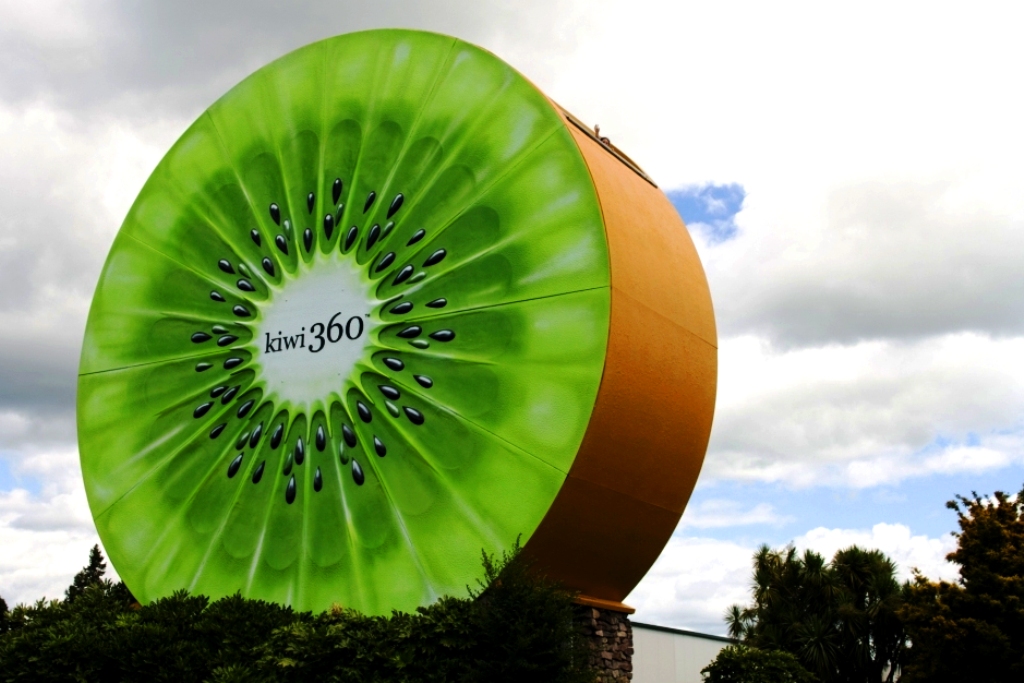 Fact about New Zealand: There are kiwis. All over.
4. Tourist Latin
"It's totally safe in New Zealand, there is hardly any crime."
Unfortunately, far from it. The number of road deaths is alarmingly high and there is of course also murder and manslaughter, not too scarce, as the incorruptible Peter from NZ2Go tells us in detail (although perhaps not scientifically proven).
Update:Unfortunately, terror has meanwhile also arrived in New Zealand. More than 30 years after the French secret service attack on Greenpeace's "Rainbow Warrior", a neo-Nazi shot 50 Muslims during Friday prayers in Christchurch. New Zealand took the first event as an opportunity to oppose all major Western powers and to remain a nuclear-weapon-free zone. The second event made Prime Minister Jacinda Ardern a candidate for the Nobel Peace Prize for her sovereign handling of the disaster and, within six days, led to a sharp tightening of the gun laws.
New Zealand cannot escape the ugly consequences of globalization. But it deals with it reliably and confidently - Chapeau!
5. Nature orgasms
"New Zealand is full of wonderfully untouched, pristine nature!"
Yes, there is a lot of untouched, grandiose nature here. But there are also those on our side of the earth, in Norway, in Eastern Europe and yes, in Germany too! It's just not that cool when you go hiking there.
Oh yes, and as for that "untouched": The pipe has now been thoroughly smoked, as I have already told you here, and of course NZ2Go also has an opinion on it. Surprisingly, very few tourists realize that the rolling green hills are by no means "untouched nature", but the result of extensive deforestation.
6. Native Romance
The wild Maori warriors with the tongue out at the Haka - huh, these picturesque natives ...
... most of whom nowadays live in dreary suburbs and wear jogging pants. I quietly doubt that the presentation of the Maori as exotic warriors who dance in bast skirts in front of tourists for a hefty entrance fee in Rotorua is conducive to a real understanding of their contribution to New Zealand culture.
For me, there is something like that from the "noble savages" that hangs along the "racism of the middle". But that is a really difficult topic, because on the other hand we think it's great the self-confidence with which the Maori have rediscovered their language and culture in recent years and how very large parts of the "Pakeha" society try to accommodate them .
7. Kiwiana stereotypes
"The kiwis are weird owls who make everything from Number 8 Wire."
Apart from the fact that a large part of New Zealanders now live in Auckland and other big city agglomerations and have immigrated from Asia: I bet they are just as differently skilled as we are here in Germany.
And the fact that they have to tinker everything with this wire is simply because there is not much to buy and imported goods are damn expensive.
8. "New Zealand = Middle Earth"
No it is not. Yes, great films were made here that were set in Middle-earth - but the real Middle-earth that Tolkien had in mind when he came up with the "Hobbit" and "Lord of the Rings" is undoubtedly in England.
As you can easily see when you drive there.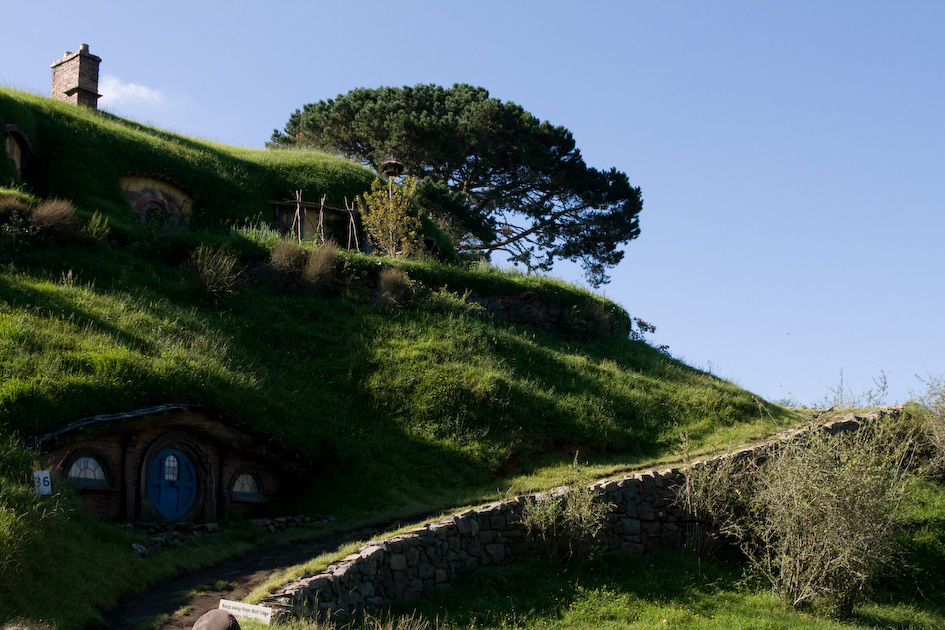 The Hobbiton Movie Set at Matamata: even with 500,000 visitors a year, you get a (relatively) authentic experience here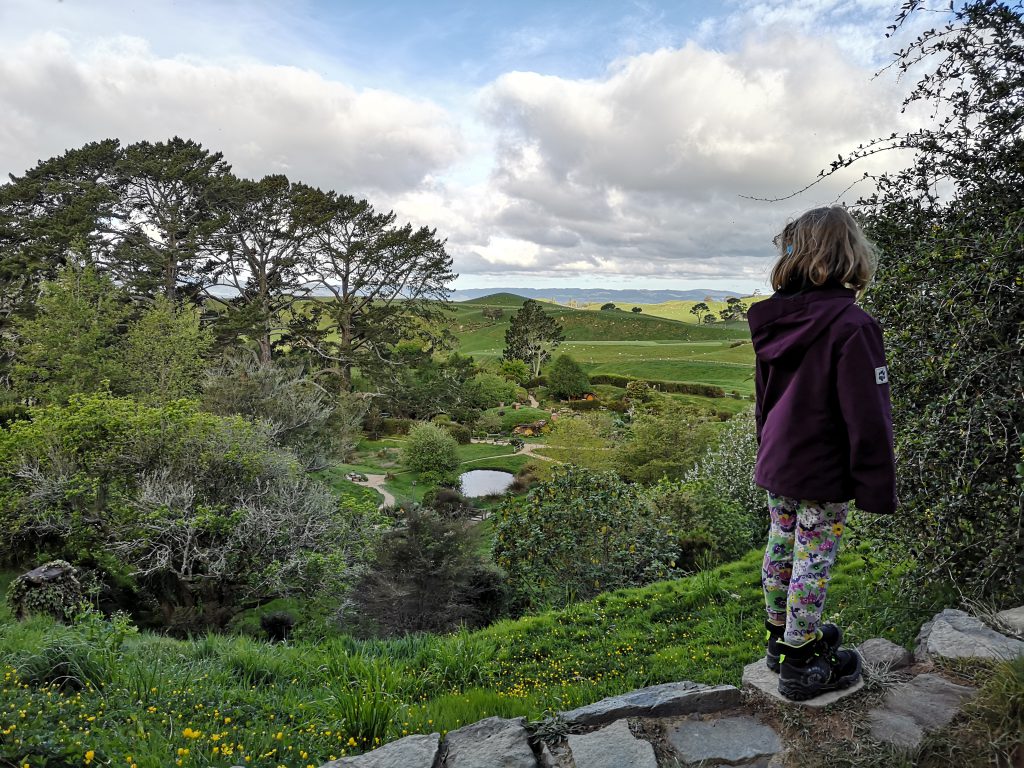 Or is Middle-earth in New Zealand after all ...?
9. Paradise Transfiguration
"New Zealand is a paradise, untouched by the world's problems."
I think it's kind of cute when grown people believe that there could actually be such a thing as a paradise on earth. New Zealand is of course not one - there are just as many problems and annoying little things here as elsewhere, just maybe different (I'm just saying: Tall Poppy Syndrome, housing bubble, poverty, terror ...).
The media ignorance of world politics may well be relaxing for the duration of a trip, but globalization has long ensured that even remote New Zealand can no longer stay out of it. See above.
And when the naive idea of ​​real paradise leads to disappointed complaints because you actually encountered full trash cans, annoyed employees and / or otherwise unsympathetic people - then sometimes I can't help smiling maliciously.
10. Cry for love ?!
Finally, the one saying, heard a thousand times, which we can totally confirm and do not want to deny: "The New Zealanders are all so friendly and open - not at all like us in [please insert]!"
Every traveler is at first amazed (and irritated ...), then amazed at how nice and polite people in New Zealand treat each other.
First of all, you should see it in relative terms: Given the high crime rate, the even higher rate of domestic violence and the widespread complaints about brutal motorists, the friendly nature of New Zealanders can only a Be the side of the kiwi mentality.
And further: Is it really that surprising for German tourists that the people in New Zealand are friendly to them? We have already met many very friendly and hospitable people in Slovakia, France, Cambodia, Japan, etc. Actually all over the world so far.
What prevents us from being friendly to our fellow human beings at home in Germany too? If everyone here tried to smile at others, offer help and say something nice, then we wouldn't have to look enviously at the other end of the world.
What bothers you about the image of New Zealand? Or do you see it completely differently?
Notice
Notice