What does BB 63 stand for
USS MISSOURI BB 63 - Trumpeter, 1/200
page 1 of 4 •1, 2, 3, 4

USS MISSOURI BB 63 - Trumpeter, 1/200
by Luthias Tue 01 Oct 2019, 8:08 pm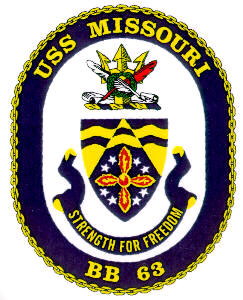 Greetings, dear model builders, to a new build report from Luthias (Thorsten) about the USS Missouri BB-63.
The lucky coincidence that I was able to start this project earlier as planned and will also report here on the current status in the usual way.
I will spare you a historical report because I just assume that everyone knows which ship it is. If you still want information, please write to me.
The headline is a quote from the film "Battleship", in which the Missouri plays the "lead role" (connoisseurs will remember when Hopper said exactly these words in the lifeboat).
Here is some information about my BB-63 project:
I was very lucky today and was able to get hold of the model from Trumpeter in 1/200 pretty cheap and hit it immediately. The order is out and, with a lot of luck, it will clap here tomorrow, but I assume that it will be more Friday / Saturday.
I will then first see what is in store for me and then think about the appropriate steps. In any case, it is clear that it will be a pure floor model.
I'm not quite so sure about the additional packages yet. Whether blue wooden deck or not, etc. etc. pp.
The camouflage is also not as real as it is historically correct. I'm still negotiating with my wife.
After all, the ship is dedicated to her and she has been wishing the lady for soooo long.
Here are a few pictures: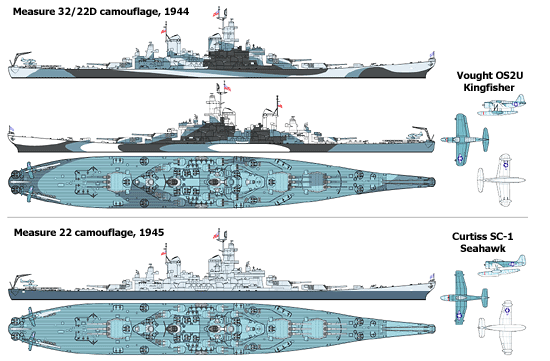 My wife would like this camouflage:
However, it is the camouflage of the Iowa BB-61. Good OK. Both belong to the Iowa class and both look almost the same at first glance (Bismarck & Tirpitz), but at the second glance it looks different. We'll see.
As soon as everything is there and I've taken the first pic's, it starts.
So, popcorn and chairs for the first row are ready, beer is cold.
On to the new project:
USS Mssouri BB-63
greetings
your Thorsten
Last edited by Jörg on Fri, Mar 06, 2020 10:04 am; Edited 3 times in total (reason: heading changed.)

Luthias

Scalpel artist







Re: USS MISSOURI BB 63 - Trumpeter, 1/200
by kaewwantha Wed 02 Oct 2019, 20:01
Hello Thorsten,
I'll take a seat there too.
But don't be frightened when the box comes, it's long and a hell of a lot inside.

kaewwantha

Building instructions custodian







Re: USS MISSOURI BB 63 - Trumpeter, 1/200
by Luthias Tue 08 Oct 2019, 4:59 pm
Hello together,
let's go and welcome to the construction report of the USS Missouri.
Unfortunately, the whole thing is not under a good star, as it all started with enormous delivery problems. However, it is also known that if a premiere doesn't really work, it will be best afterwards.
The lady was supposed to arrive on Friday and she was with me yesterday evening (9:42 pm) and after a short and quick check she was the next hammer:
THE CONSTRUCTION PLAN IS MISSING ........... WHAT A SHE ...
So first of all phoned around this morning and I actually got a construction plan with a painting & marker guide from the sales department. FALLER. I thought that was pretty cool. Unfortunately, a small mistake crept in there too, which I still have to clarify, the main thing is to build it first.
As you are used to from Trumpeter (apart from the construction plan), the box is really bulky and the contents are well sorted.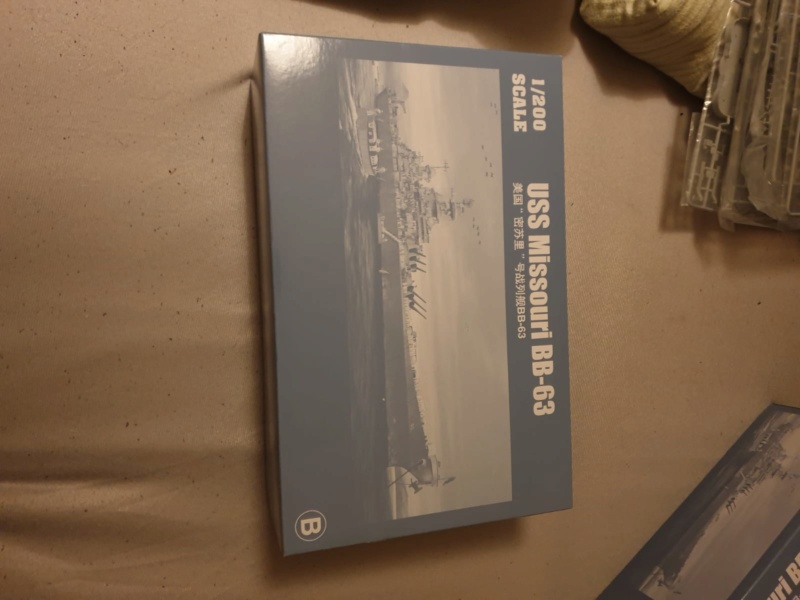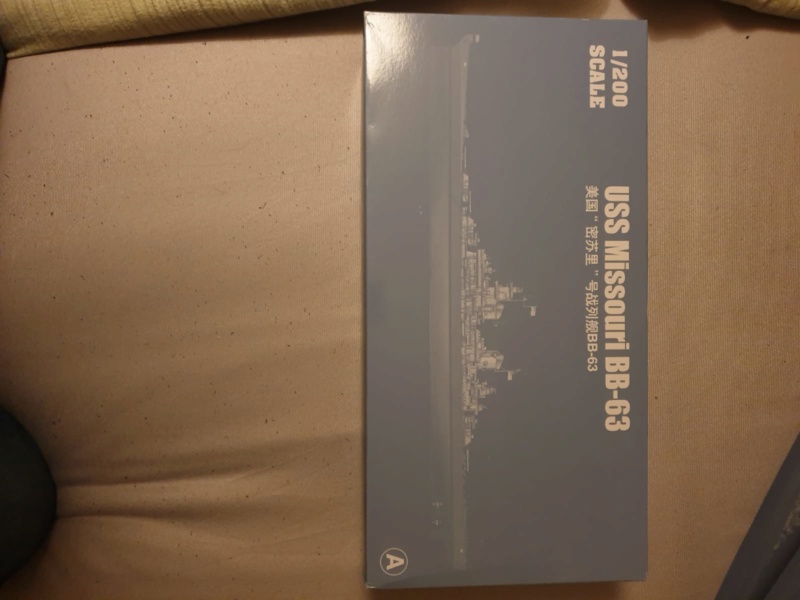 I will spare you the content and dismantling of the individual cast branches, otherwise this will be a Bible. It should be known how much there is in store for you.
Also the etched brass parts as usual, nicely neatly packaged and the decals neatly stowed away.
Of course, I informed myself beforehand and noticed that the Missi's torso is as smooth as a child's bottom, and it was confirmed yesterday evening as well.
Apart from the water cooling outlets and the position markers of the shaft brackets, there isn't really much on it, I would have liked a few more details.
That can be changed. On a test object (Tupadose
) Let's see if we can create the welded seams of the individual panels by heating up old cast branches and stretching them until we have the desired thickness. Then cut to length and carefully attach to the "fuselage" with glue. Then the whole thing is processed with very fine sandpaper, wet, until you have the desired thickness.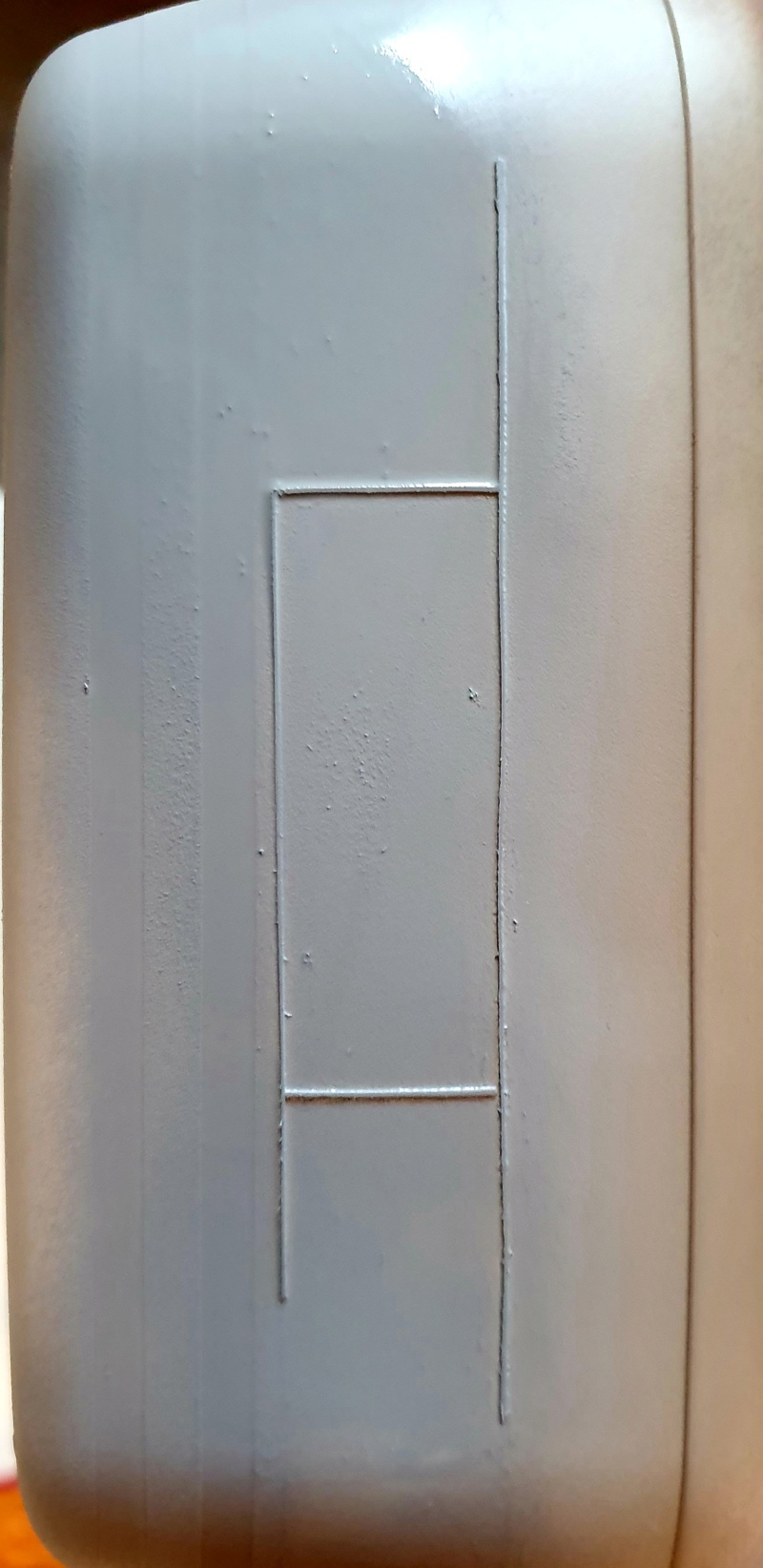 Then the whole thing primed and sometimes a test camouflage on it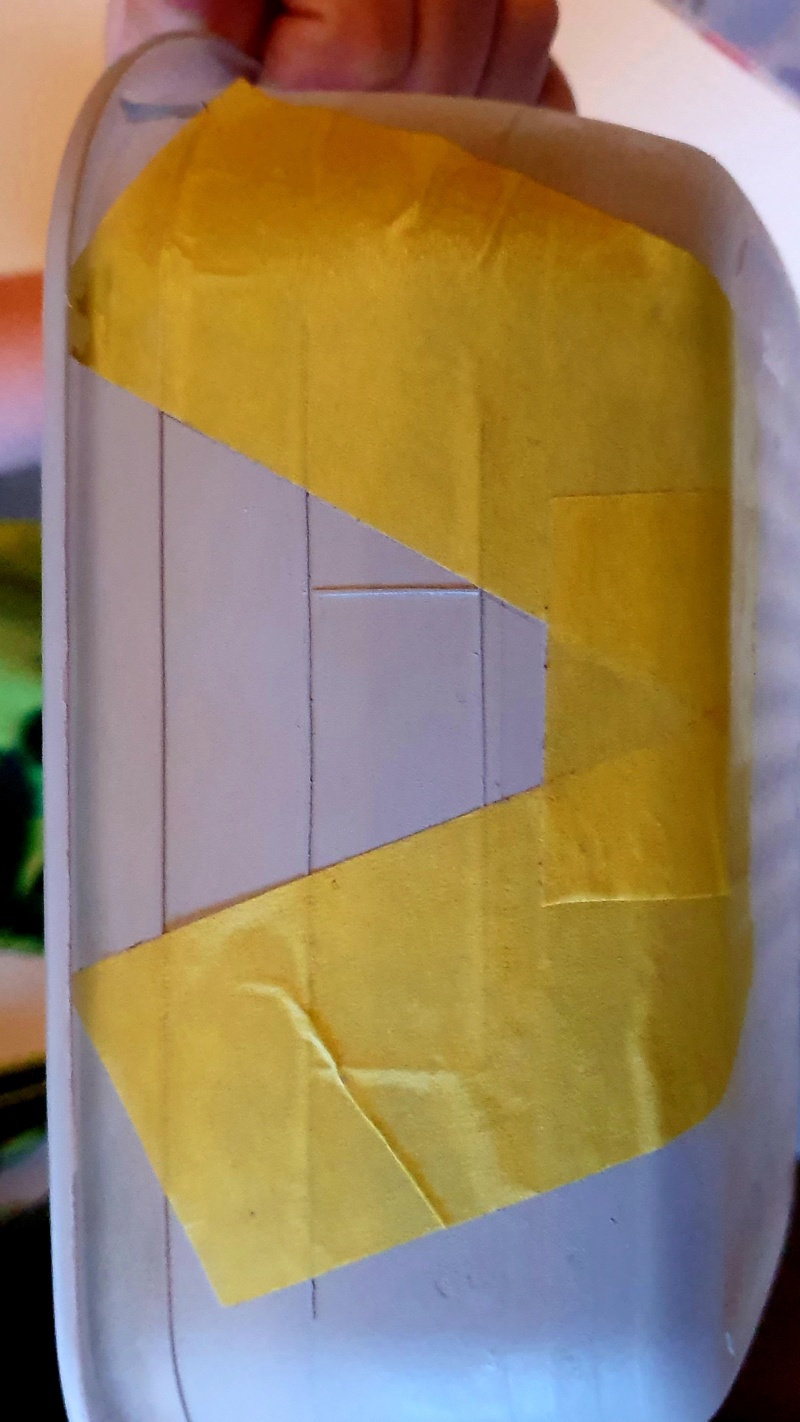 So far it works. Now comes the highlight:
In a trade journal it was explained how to get this flaking effect. You can either poke the woman's hairspray or buy a tincture especially for it (10ml is 15 €).
I decided on the first variant
Hairspray druff and wait about the length of a cigarette (about 5-6 minutes). Then put the camouflage color on it and wait about 10-15 minutes again. Then you take a Bibo (cotton swab) and wet it with water.
The painted area is then rubbed until the desired effect is achieved.
And I'm really excited about it.
Today I started to work on the fuselage a bit and since the bow has to be mounted separately, that will be done.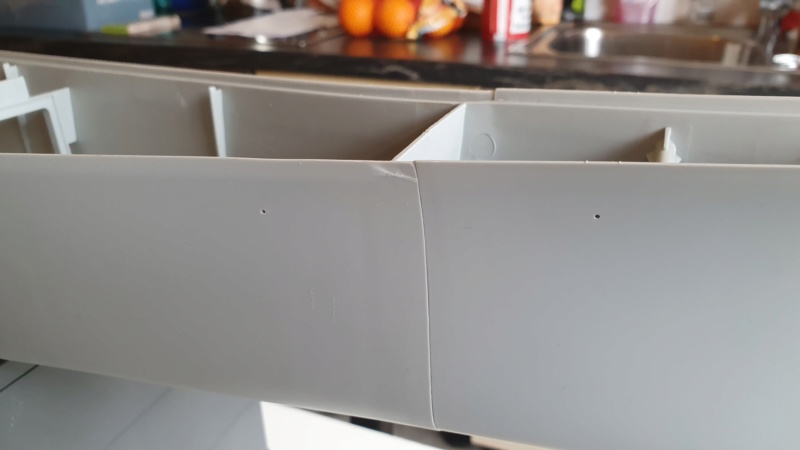 There is a lot of filling and sanding that needs to be done. I plan to do that on the WE.
Of course, I couldn't take it and start a direct comparison with the Bismarck. See for yourself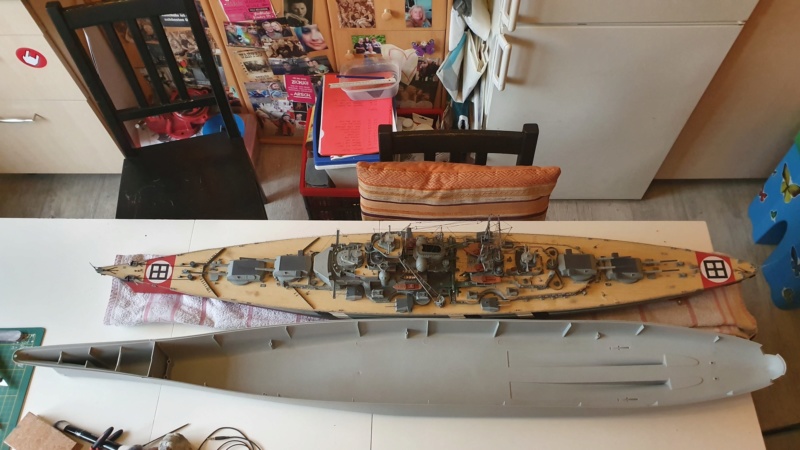 It was clear to me that Missi is bigger, but that much is wow.
Well, since I'm doing handicrafts in the kitchen, because that's where the largest table is, my wife is now cooking something super delicious and I'm doing my favorite task.
HOW MUCH.......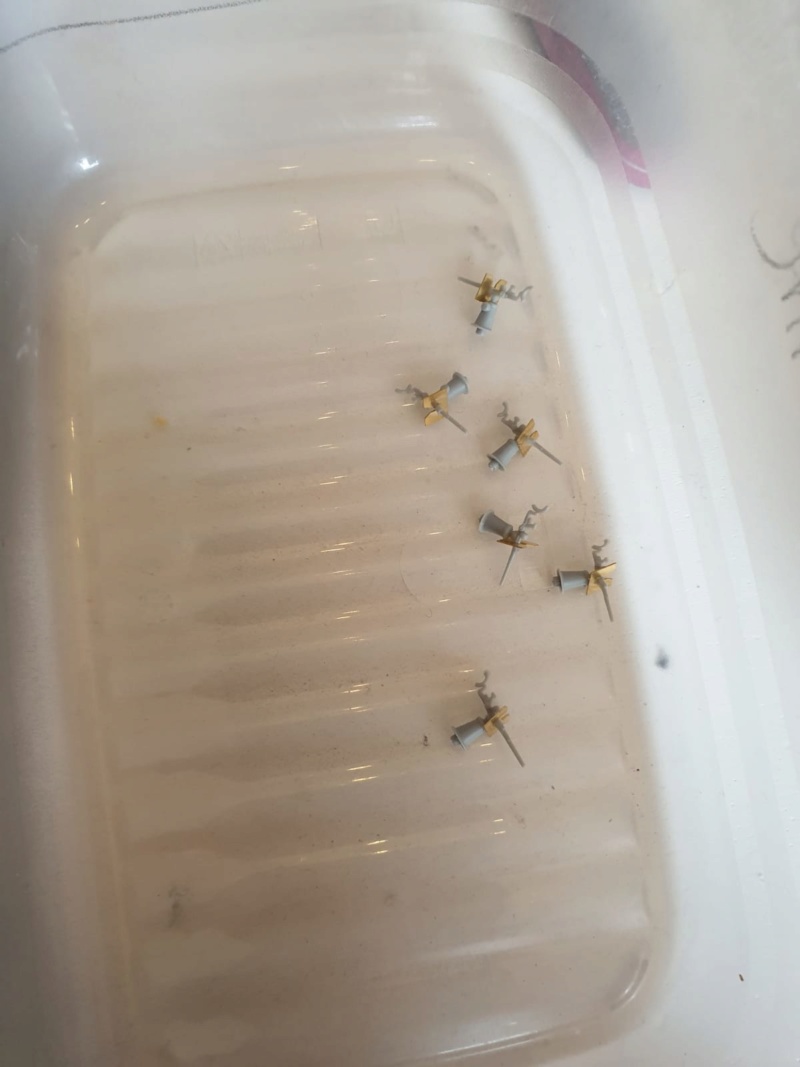 Ok, for the next 200 years I will only stick flak ...........
So far the first day is over and let's see what the next day will come.
It just occurred to me whether any of you might still have an old blueprint from Trumpeter's Missouri?
Maybe also reveal where you get the measurements for the water lines.
The network is not throwing anything sensible out today or I'm just too stupid today ........
Maybe someone can tell me what the dimensions of the steel plates were because of the reproduction of the welds / butt edges.
From the pictures I would say 8m long and 2m wide, but I can't say for sure.
To be continued (hope without further disasters) .......
greetings
Thorsten

Luthias

Scalpel artist







Re: USS MISSOURI BB 63 - Trumpeter, 1/200
by kaewwantha Tue 08 Oct 2019, 18:15
Hello Thorsten,
Code:
look here there are the dimensions of the boat.
It had a draft of 11.6 muter, which corresponds to 5.8 cm on a 1/200 scale.

kaewwantha

Building instructions custodian







Re: USS MISSOURI BB 63 - Trumpeter, 1/200
by Luthias Thu 10 Oct 2019, 12:04 pm
Hello together,
unfortunately, unfortunately, unfortunately I was hit hard. Not only the flu but also dental technology. And the doc doesn't have an appointment until tomorrow morning. Anyway, I have to go through.
I thank you for your numerous aids that you have posted here. There is a lot of information on it that I can use. With some of them I keep asking myself whether they are running lexicons (yell Alex
)
@ Schlossherr: Anyone who knows the film also knows this quote and this situation. It's about the movie "Battleship". So human vs. alien. However, the ships shown are much more interesting than the film itself. Take a look at yourself
I spoke to my wife again and she finally decided on a camouflage (drum roll):
AND THE WINNER ARE ...............
So buying a wooden deck falls flat and it is painted directly.
In return, my wife (without my knowledge) created this:
Well, goodbye to the kitchen for about 15 months
Your own fault if you express such wishes
Ok, I swing my buttocks back into bed and see that I get better quickly so that I can carry on.
And you already have a chic WE and have fun with your projects.
greetings
Thorsten

Luthias

Scalpel artist







Re: USS MISSOURI BB 63 - Trumpeter, 1/200
by Luthias Thu 17 Oct 2019, 16:19
Hello together,
there I am again and first of all thank you for the wishes for wellbeing. As a clever doctor once said: A cold lasts a week with medication and 7 days without it .........
Ok, I got a little nasty root canal treatment, which is slowly turning into a never-ending story. But I'm ready to report back to you.
This time the reporting is divided into several parts, otherwise it would be too much and nobody (including me) can see through.
Here we go.
UPDATE 01
The bow was built on the rest of the hull, filler was druffed and allowed to dry for 1 day. Then grind, grind, grind ....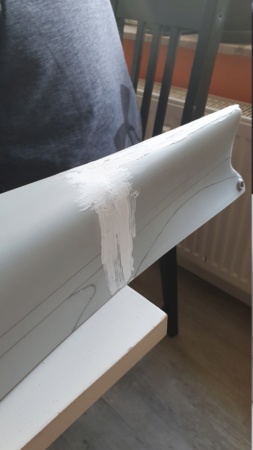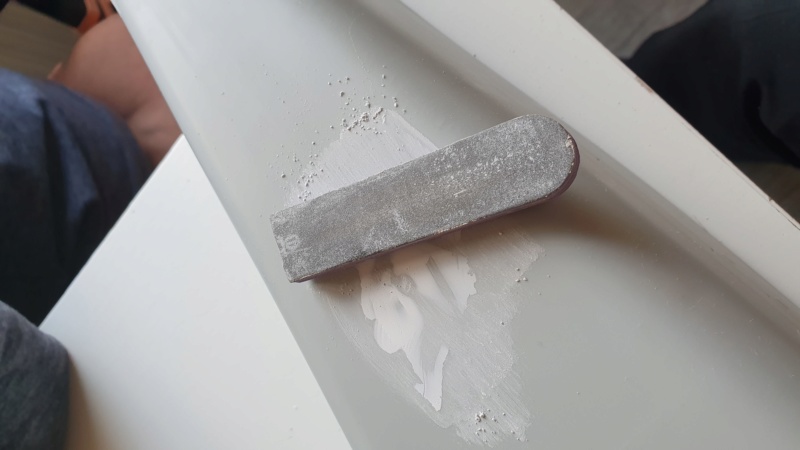 At the stern there was also filling and sleeping .....
After the meeting with my better half, the camouflage was set and I then ordered the colors.
The days should now arrive.
So I got down to it, took out the tea light and created a nice pre-Christmas atmosphere ......... of course not.
Pulling casting branches was the order of the day and these were then attached to the hull with acetone. And that was really a tricky business. I've never done it before and I wasn't aware that acetone can do that.
Learned something again.
The drawn cast branches (it's good that I'm a musician and already have fat calluses on my fingertips, that sometimes got really hot ...)
For better orientation, the camouflage painting is provisionally drawn on the fuselage
Drugs, alcohol ... bullshit. A bowl full of acetone and every model maker is doing really well afterwards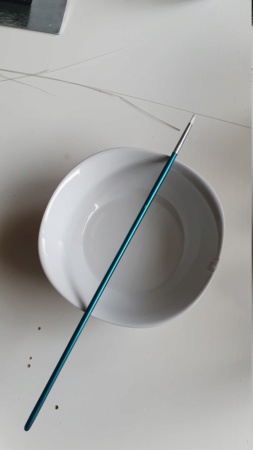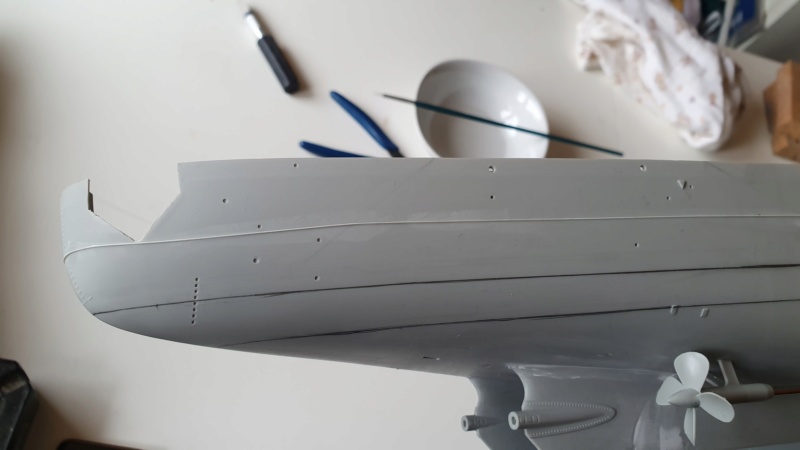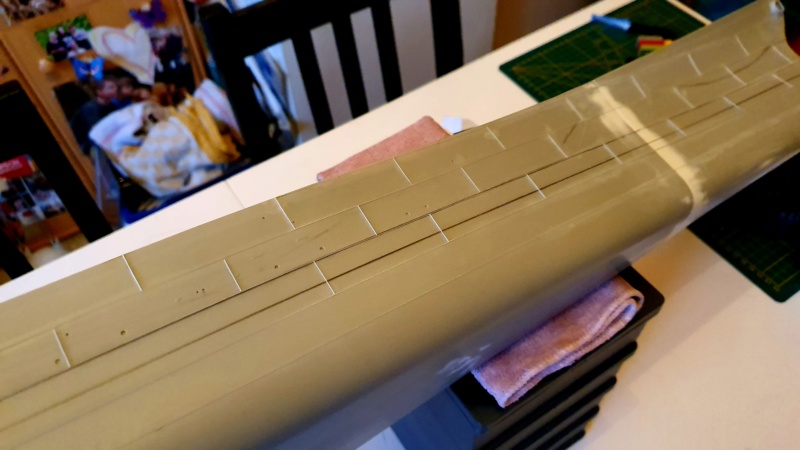 So that the fuselage stops, you can use pretty much anything for a purpose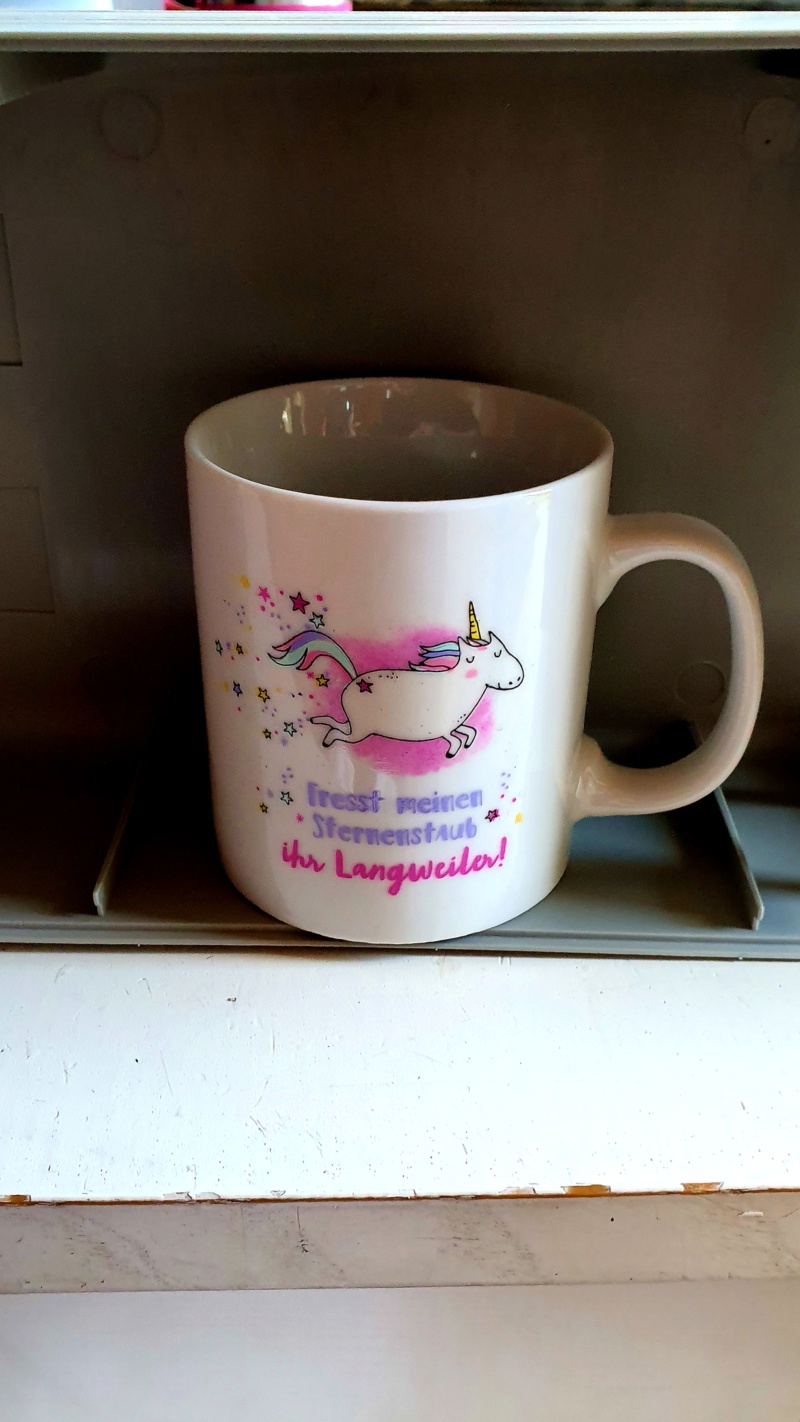 My best friend while I'm building something
The preliminary result after 2 days. It was a bit edited, so it was sanded, but by and large it will stay that way. You mustn't forget that there are still a lot of layers of paint druffing.
The arrangement of the abutting edges is also not synchronous. After some research on the net, I was able to work out a rough overall concept for the Missouri. If interested, just let me know.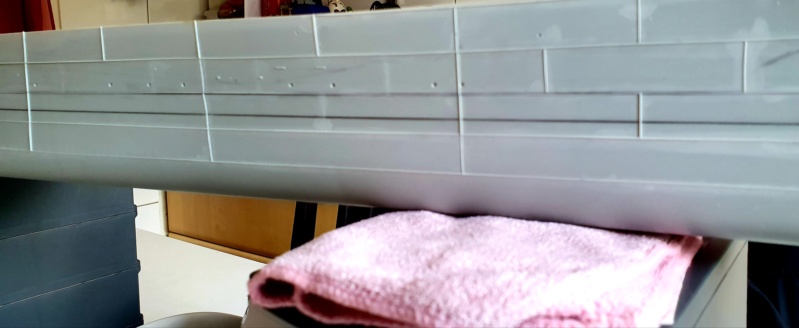 Luthias

Scalpel artist







Re: USS MISSOURI BB 63 - Trumpeter, 1/200
by Luthias Thu 17 Oct 2019, 16:35

Luthias

Scalpel artist







Re: USS MISSOURI BB 63 - Trumpeter, 1/200
by Luthias Thu 17 Oct 2019, 16:59
UPDATE 03
The last update for today and you are up to date on the Missouri.
Here are a few more pictures of the assembled superstructures, the main guns and the flak. Nothing is stuck from the big components.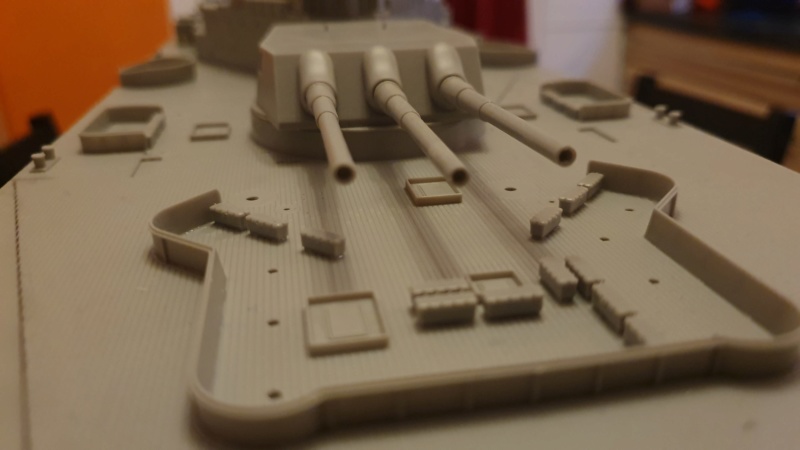 Yep, even a model maker should eat something from time to time
Yesterday I had a little funny experience that I don't want to withhold from you.
I had worked on such weird etched parts last night and at first didn't know what it could be. It wasn't until I took a closer look and looked at the blueprint several times that it became clear to me what it was all about.
Then it occurred to me to write dear Greta from Sweden, something like this:
Code:
And here the pictures: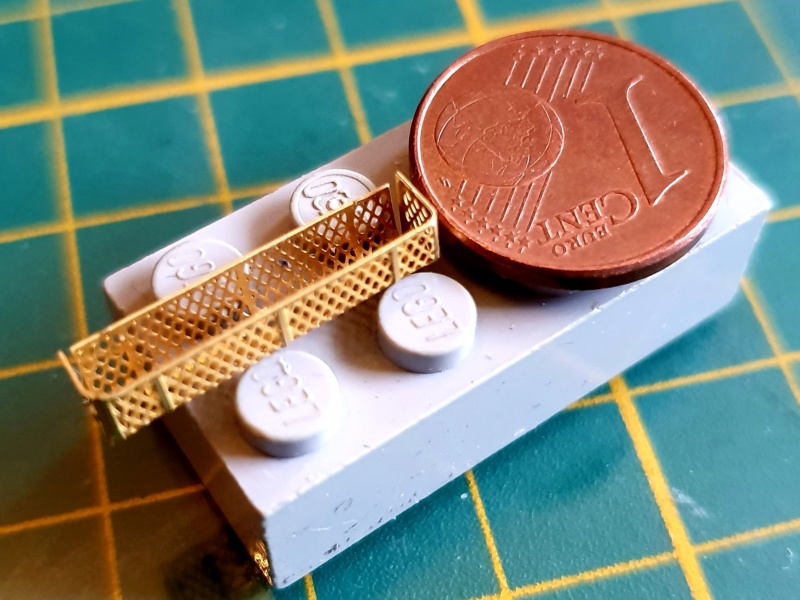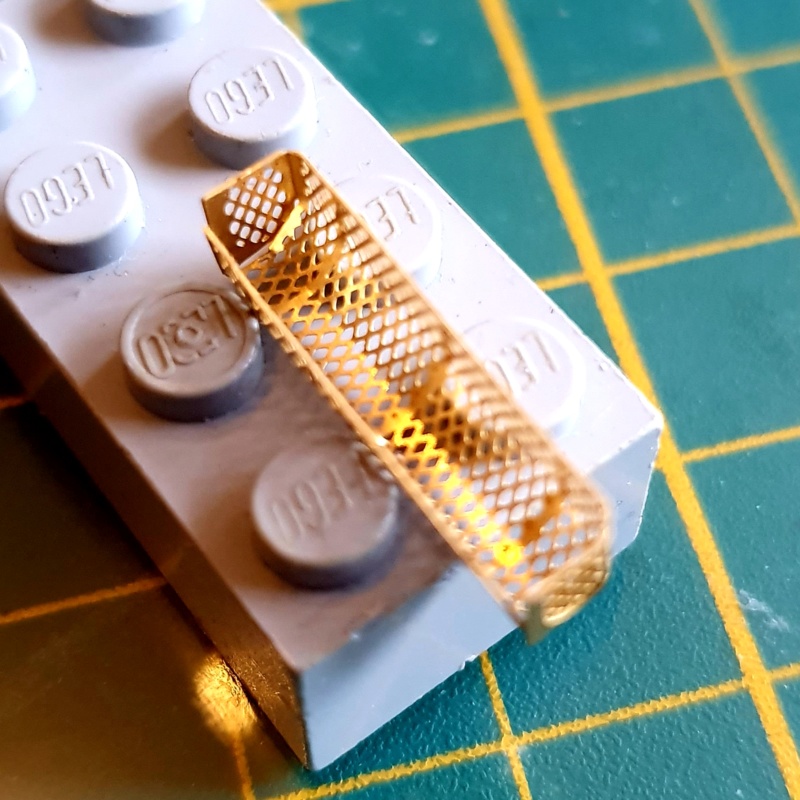 Well, recognized what it is?
Not ??
Ok, then another picture and it clicks: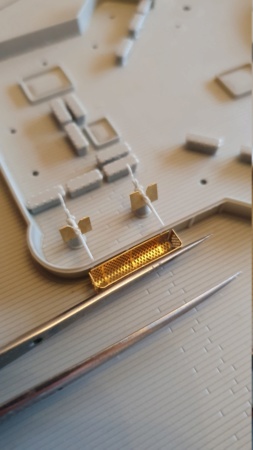 These are collecting containers for the ammunition cases.
They were under almost every anti-aircraft gun and so the cases were more or less caught. These could then be recycled.
Active environmental protection in the war years on a battleship.
Somebody should tell me again that we didn't think about our environment back then
Ok, that was it from my side for now. As soon as there is something new, I'll let you know.
greetings
Thorsten

Luthias

Scalpel artist







Re: USS MISSOURI BB 63 - Trumpeter, 1/200
by kaewwantha Thu 17 Oct 2019, 18:40
Hello Thorsten,
I have them here in a partially processed state, so I'm not sure what kind of bottles they should be. But I think it could be oxygen bottles.
It looks good what you've built so far.

kaewwantha

Building instructions custodian