You can share your photos here
The 13 best apps for editing photos and videos on mobile devices
As we already know, engaging visual content is very important to marketers - especially on social media.
It was recently announced that Instagram's number of active users has doubled. It means that always more people can view and share pictures with each other. Also, visual content is 40 times more likely to be shared on social networks than other formats. In other words, people prefer to see things rather than read them - and accordingly like to share this content.
The 13 best apps for editing photos and videos on mobile devices
For this very reason, knowing how to create engaging visual content for their business social media profiles and blogs is critical for marketers. It can be well worth investing time and money in desktop photo editing software. However, many of us only use smartphones for taking photos and would therefore find it practical to be able to edit these images directly on our mobile phone without having to transfer them to the computer beforehand. This is of course even more true when you post in real time, for example at a live event.
The 13 best Apps for editing pictures and videos
Afterlight
VSCO Cam
Snapseed
Camera +
Mextures
SKRWT
Collage Maker - Live Collage
Foodie
Visage Lab
Splice
Hyperlapse
PicPlayPost
InShot
Photo editing apps
Fortunately, there are a variety of great photo and video editing apps available for mobile devices - some are free and some cost a few pounds. But which are the best - paid or free? We have put together a selection for you.
1. Enhance photos with Afterlight
€ 0.72-0.99 | iOS | Android | Windows
Perhaps you're still taking a somewhat "traditional" approach to photo editing. In doing so, you may rely entirely on Instagram's tools and occasionally use the "Improve" function on your smartphone. Then it's time to try something new: Afterlight. The tool is kept fairly simple, but has all the functionality you need for basic photo editing need.
The app contains practically all the functions you need for post-processing light and colors. You can change the color tones, adjust the exposure and brightness, straighten photos and change their orientation.
There are too 74 filters including the "Fusion" function, with which you can combine tools, filters and textures with each other to achieve a very personal look. If you like to add a frame to your pictures, Afterlight offers you 128 of them. You can easily find the right person for your Instagram profile.
However, some of the app's best functions are those for post-processing brightness and shadows. For some images, decreasing the shadows and increasing the brightness results in a cleaner, clearer look. You can also completely reverse the brightness and shadows to create a completely different mood. You can see this in the example with the Christmas tree balls below.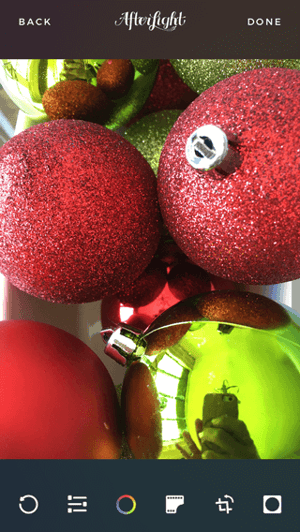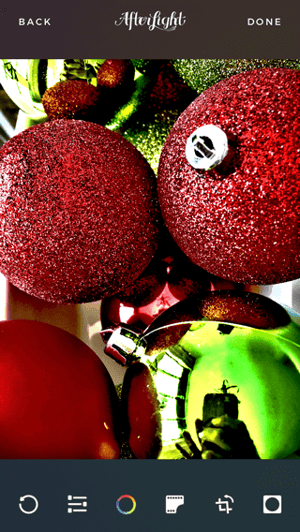 2. Soft & Natural Filters with VSCO Cam
Free of charge | iOS | Android
VSCO has become an extremely popular F.Photo editing app for mobile devices become. Compared to other apps, it offers quite a large selection of editing tools, but it's the filters that make the app so popular.
The filters are a little softer and more natural than many of Instagram's over-saturated looking filters, and give your photos a more realistic look. This app can also score points when things have to be done quickly.
You just have to just upload one picture to VSCO Cam, apply one of the filters (C1 was used in the example below) and you're ready to go. (You can also buy additional filters in the app.)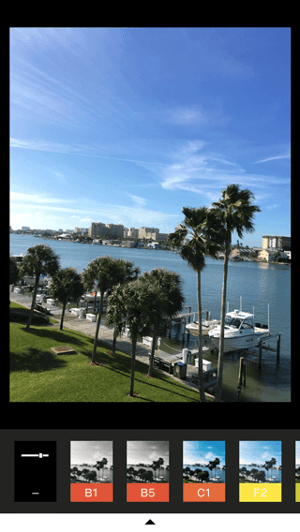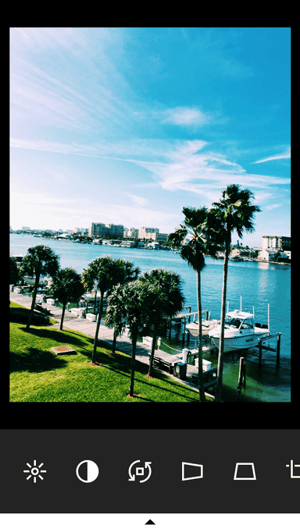 3. Image processing with Snapseed
Free of charge | iOS | Android
Snapseed is another great app for easy photo editing. This includes all the classic tools for adjusting images, e.g. B. Fine-tuning, cropping and straightening. Plus, the tool is really great for sharpening. It improves the details of photos without making them grainy, as is often the case with the sharpening features of other apps.
The special thing about this app, however, is the tool for the "Selective filter". With it you can select a certain part in your picture and adjust the brightness, contrast and saturation for that only. So if you want viewers of your picture to dedicate themselves to a particular part of the photo - for example the flower of a plant - you can only emphasize that part more specifically.
Would you like more help with Snapseed? The app developed by Google has its own support page with tips and instructions.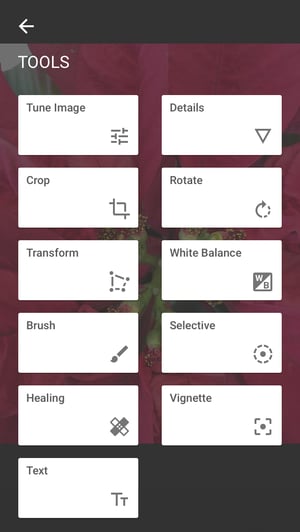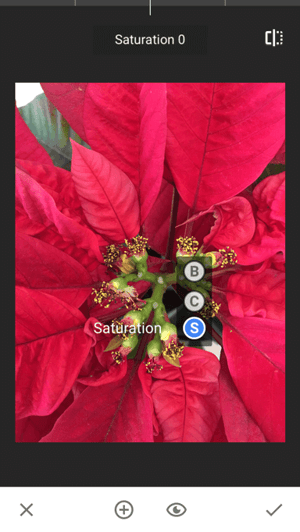 4. Professional photo editing with Camera +
€ 2.99 | iOS only
This app is the most expensive on our list. You naturally wonder why Camera + is so special. When the app was launched, Lifehacker called it "the best camera app for iPhone". TIME magazine wrote: "The standard iPhone camera is comparable to a digital compact camera. The Camera + app is like the lens of a high quality SLR camera. "
The app offers many of the classic photo editing tools like changing the color tone, retro effects and cropping. However, there are some features that make the app unique. First off, there's Image Stabilization, which helps you get the sharpest pictures - before you even press the shutter button. You get a zoom with six times magnification, which improves the image quality of distant objects.
Kevin Sintumuang from Wall Street Journal sees in the app's clarity filter "the secret ingredient that gives every shot a particular clarity". I can only agree with that. Take a look at this improved picture.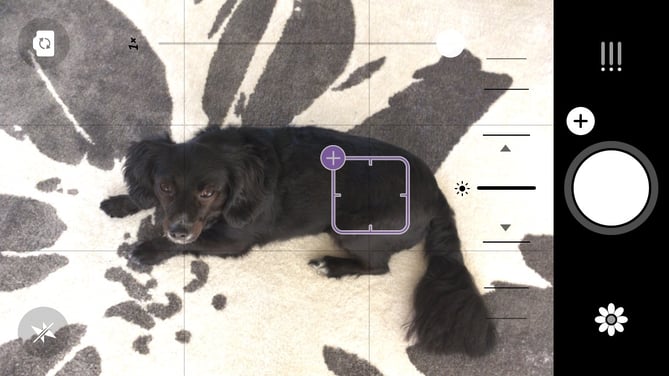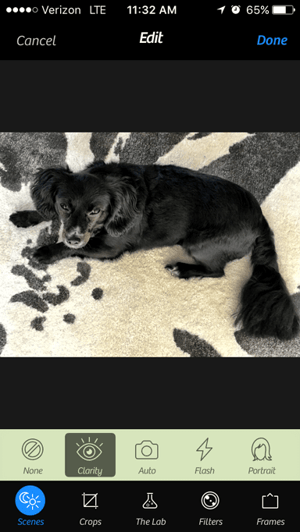 5. Image processing with mextures
1.99 € | iOS only
Mextures is one of the more advanced apps on our list. Layer-based image processing is the top function here. This allows different adjustment levels to be layered on top of each other. They can be moved and edited individually - there are almost no limits to creativity. You can apply multiple filters, textures and blend models together and give your image a truly unique look.
When you find a combination you like, you can save it and later apply it to other photos or even share it with your friends.
This simple photo of candlesticks against a white background has been edited with three enhancements: the "Waterfront" overlay, the "Bokeh Baby" overlay, and the "Color Dodge Blending" mode.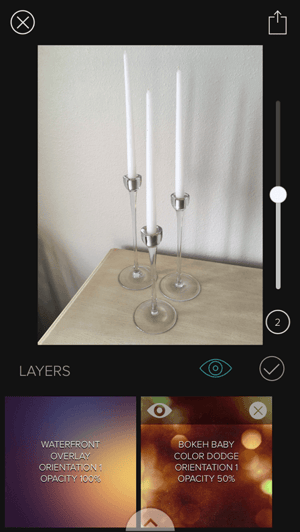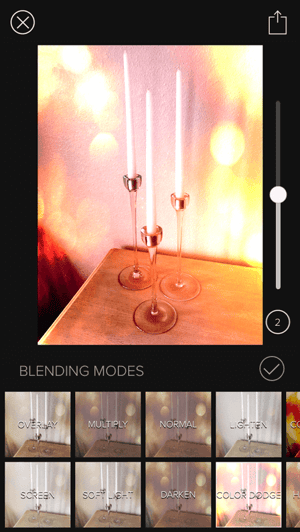 6. Edit photos with SKRWT
€ 0.99-1.59 | iOS | Android
Perhaps you have already held your camera straight from the front at an object - a door, a building, your food - and then found the perspective little one a bit crooked or crooked? The SKRWT app allows you to change the perspective of your images so that the lines are clean and square.
Take a look at this simple photo of a window.
Before: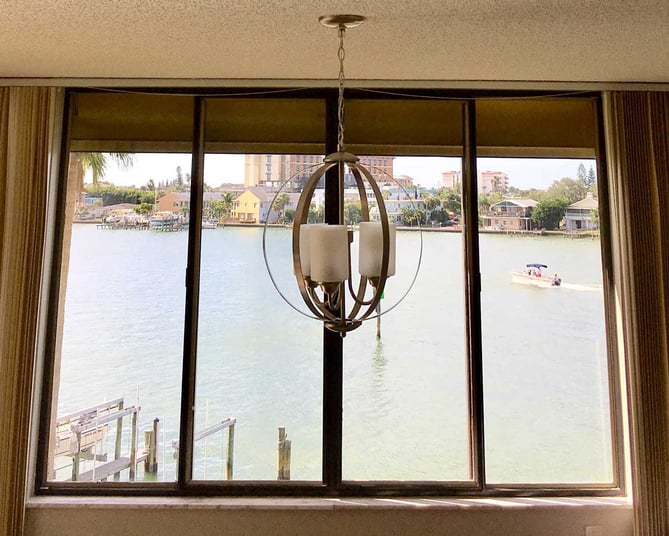 Later: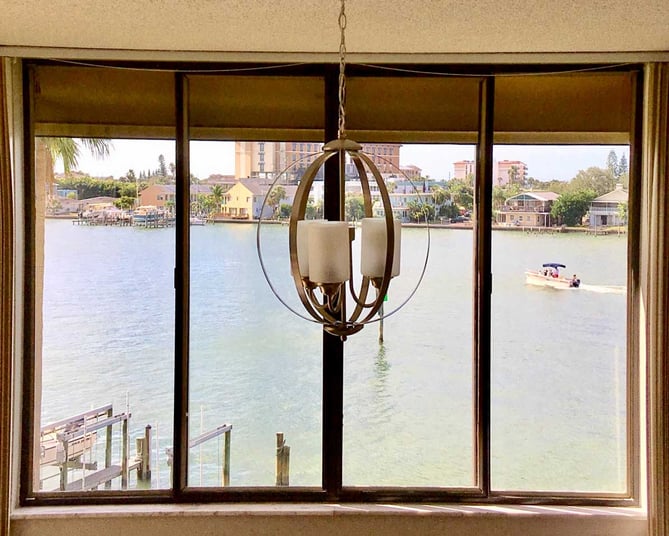 At first glance, the "before" image doesn't even look that crooked, but if you look at the "after" version you can see the difference the symmetry makes. If it bothers you if a photo is a little crooked, then this app is worth the money.
7. Photo collages with Collage Maker - Live Collage
Free of charge | iOS
Photo collages are a great thing. They are good for comparisons - for example a before and after series - or for arranging several pictures from the same event or on the same topic. Live Collage is a great collage app that offers a wide variety of layouts. There are several layouts to choose from - both classic and playful - with interesting, colorful backgrounds. In addition, you can add personalized texts in different fonts, colors and sizes.
If you're in a hurry, the app also gives you basic photo editing options, making it a handy all-rounder.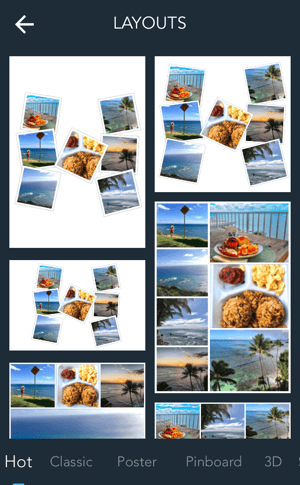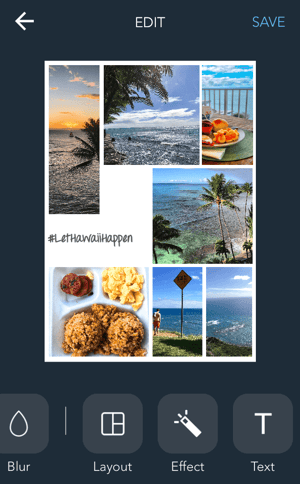 8. Edit food with Foodie
Free of charge | iOS | Android
Surely you know that too: Your social media feeds are full of photographed meals. It is therefore not surprising that more and more photo apps specializing in food are coming out, which are supposed to make the food look even tastier.
Bustle said of Foodie that it "makes images of food almost unearthly beautiful". Foodie offers over 26 filters and other editing functions that turn even the boring snack into a feast for the eyes.
Here you can see the CR2 filter on a picture with colorful chocolate buttons: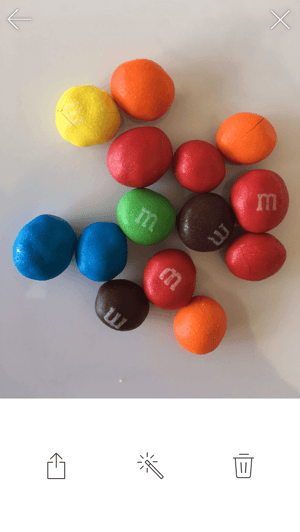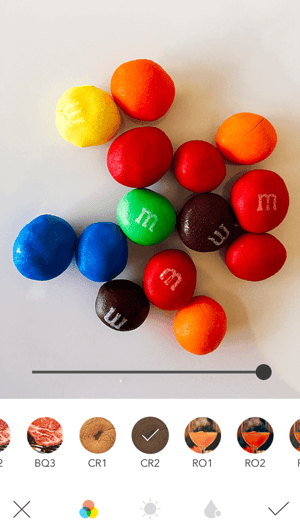 9.Edit faces with Visage Lab (Visage Makeup Editor)
Free of charge | iOS only
Let us make one thing clear right from the start: Dark circles are nothing to be ashamed of. We all have them, and sometimes they're almost war paint of sorts. (However, lack of sleep is not a heroic act and also not recommended!)
Sometimes, however, a bit of vanity creeps in when we post photos of ourselves on social networks. If that sounds familiar, we have an app for you here.
With the Visage Makeup Editor, you can retouch photos in no time. You can also add special effects, like the "Pop Art Style" filter, which turns your selfie into a painting that would amaze Andy Warhol. The app includes some interesting backgrounds as well as brightness and color functions. There are also other options for sale.
The only disadvantage? There are lots of ads in the free version, and if you don't upgrade to the pro version, a branded hashtag will remain on your images.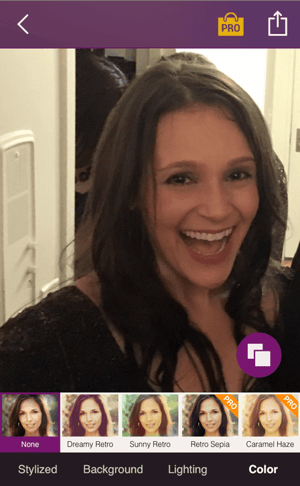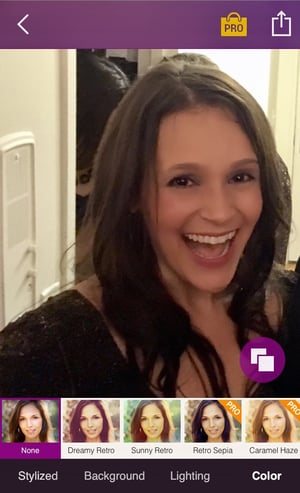 Video editing apps
With these apps, video editing works on the mobile device in no time.
10. GoPro: Splice
Free of charge | iOS only
Unsurprisingly, the GoPro makers are releasing an app that lets you join different video clips together. You can use it to create a moving collage from video clips on your smartphone.
Splice is really fun, especially because, in addition to other functions such as the definable length of transitions, it contains a library of music pieces with which you can store your finished product. You can also use the app to cut and edit different parts of a video.
This 15-second video was put together with Splice - all with an iPhone 6 alone.
11. Time-lapse videos with Hyperlapse
Free of charge | iOS only
Hyperlapse was created by the developers of Instagram. The app combines videos with a super time-lapse into short videos that you can then upload to Instagram or Facebook. You can choose different speeds - the app will then show you what length the time-lapse video will be at each speed compared to the length in real time. (A 40-second video in real time is condensed into about seven seconds at six times the speed in Hyperlapse.) The app is a cool way to document something that normally takes a long time, like a sunset or setting up at an event.
Here is the video of a sunrise accelerated 12x with Hyperlapse:
12. Video collages with PicPlayPost
Free of charge | iOS | Android
We already mentioned that photo collages are great. Just imagine how cool one can be Video collage could look. PicPlayPost is a simple app that lets you do just that. However, you should keep in mind that the audio from both videos will be played at the same time. So you have to be careful that no noise comes out of it.
There are many uses for video collages, but we particularly like the way fitness trainer Melissa Made uses them on her Instagram account. She publishes a video collage in which she demonstrates a training exercise on one side and explains exactly how the exercise works on the other: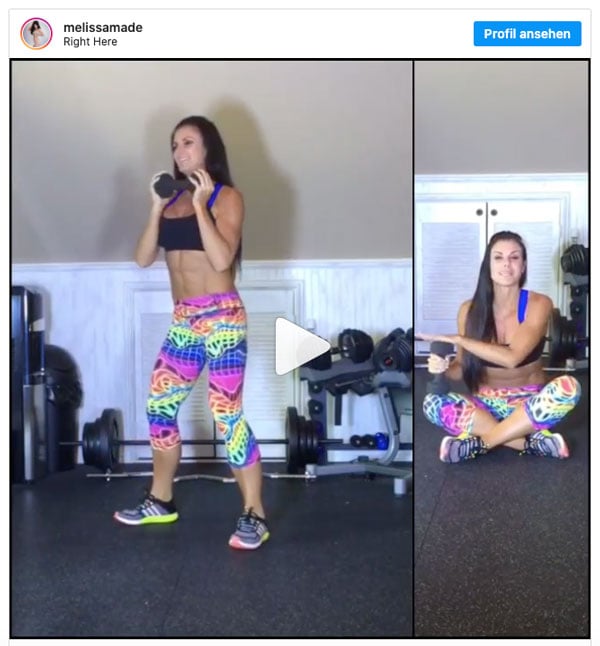 13. Trim and edit videos with InShot
Free of charge | iOS | Android
Sometimes you just want to edit a video - without any special collages or cuts. That's why InShot is a handy app that lets you shorten and speed up videos, as well as add music and filters. Its functions are relatively simple, but it is very user-friendly. The app offers the option of adding different backgrounds. It also has an interesting feature that lets you overlay images, like in the video below.
Here you can see a calming beach scene, which has been processed with the "Warm" filter and to which a suitable music has been selected. By the way, the song is called "Pikake Stream" by Kalani. (If you ever have a stressful day, I recommend that you watch the video in full with headphones.)
Image and Video Editing: Now, Let's Get To The Best Part!
You have now seen how easy it is to create and publish visual content. Of course, you need to get some practice using these apps first. If you don't know where to start, just take a look around - that's exactly how we did it when we tried it out.
Think about your marketing goals for this year. Then ask yourself what kind of visual content, format and content, could help you achieve your goals. Then you can choose the best apps from this list.
You can then get started with your visual content right away. We can't wait to see what you will create.