What does focaccia bread look like
Homemade Italian Focaccia Bread Recipe
Homemade Italian focaccia bread
Preparation:
For this crispy Italian flatbread, first dissolve the fresh yeast with the sugar in lukewarm water and let it stand for a few minutes. Then knead them together with salt and flour. Once you have made a dough from the various ingredients, you can slowly add the olive oil and continue kneading for about ten minutes.
Now put the yeast dough on a floured work surface, cover it with a little flour. Now knead for another three to four minutes. Pour the batter back into the mixing bowl and leave it covered for about an hour. After this time, the batter should have doubled.
After the resting time, the baking sheet is generously coated with olive oil, sprinkled with semolina or polenta and the dough is spread over it. Now pour the olive oil over the yeast dough and prick the dough with your fingertips to achieve the familiar focaccia look.
The topping
Wash and halve the date tomatoes and dice the sheep's cheese. Then the black olives, tomatoes, sheep's cheese and thyme are spread over the dough. Now wash off a clean kitchen towel with hot water, squeeze it out and cover the baking sheet with it. So the flatbread has to rest for another 30 minutes. After the rest of the time, the bread is baked in the preheated oven for approx. 20-25 minutes until it is golden brown.
In the meantime, prepare the garlic oil. The olive oil, the pressed garlic, the softened butter and the salt are mixed together. After the baking time, spread the garlic oil over the hot focaccia, garnish it with the basil leaves and your delicious and crispy bread is ready. The flatbread is quick and easy to make, tastes delicious with grilled food in summer and can of course also be prepared differently, for example with sun-dried tomatoes, thyme and a little parmesan.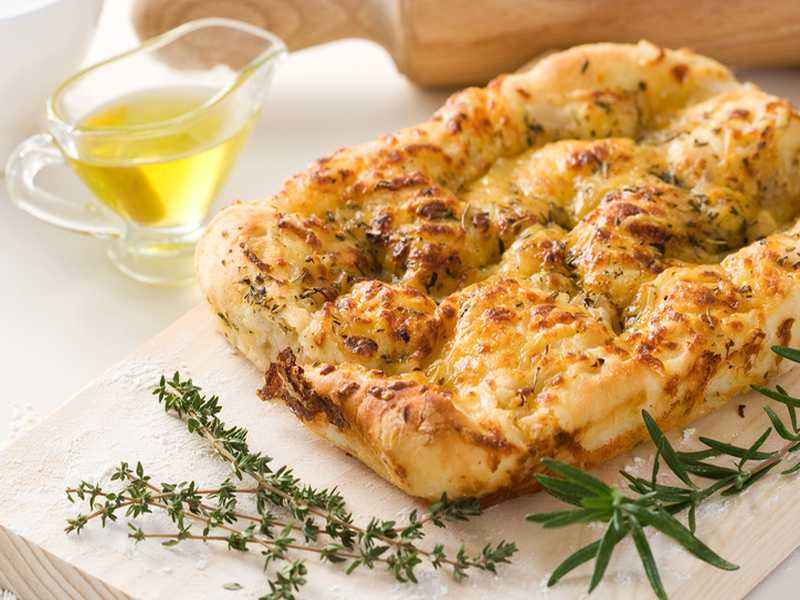 Focaccia bread © iStockphoto / Proformabooks
Servings: 1
Difficulty level: medium
Preparation time: 25 minutes
Ingredients:
For the dough:
550 g flour
350 g of water
1/2 teaspoon fresh yeast
1 teaspoon of sugar
1 1/2 teaspoons of salt
4 tbsp olive oil
1 teaspoon of fat for the pan (olive oil), for coating the baking pan
1 tbsp polenta semolina or hard or soft wheat semolina
For covering:
4 tbsp olive oil, for spreading the dough before topping
1 handful of date tomatoes
1 handful of black olives, pitted
1/2 package of sheep's cheese
1 teaspoon thyme
Also:
4 tbsp olive oil
1 tbsp butter, soft
2 cloves of garlic
1/2 teaspoon salt
8 basil leaves, fresher, for garnish