Which salad is offered for the predominant Hajat?
[Marhaba Marrakech # 4] How couscous really works and my very own spice mix
The desire to want to get couscous right seems a bit simple-minded. Everyone can do couscous, one might think. You buy a pack in the supermarket, pour water or broth over it, let it steep, done. The fact that my couscous didn't even begin to approach the lightness and taste of couscous here in Marrakech didn't bother me. I didn't know any other way. I humbly have to realize here that I didn't even begin to understand what it was all about. But there is light at the end of the tunnel. Hayat, head chef at Dar Les Cigognes, is my star of enlightenment. She'll show me how to do it.
I'll be in pain, I'll stand on the hot stove in a small kitchen at forty degrees and I'll have great fun. However, one by one. Let's start with the fun, because that's "going to market".
Spices and my very own Ras-el-Hanout mixture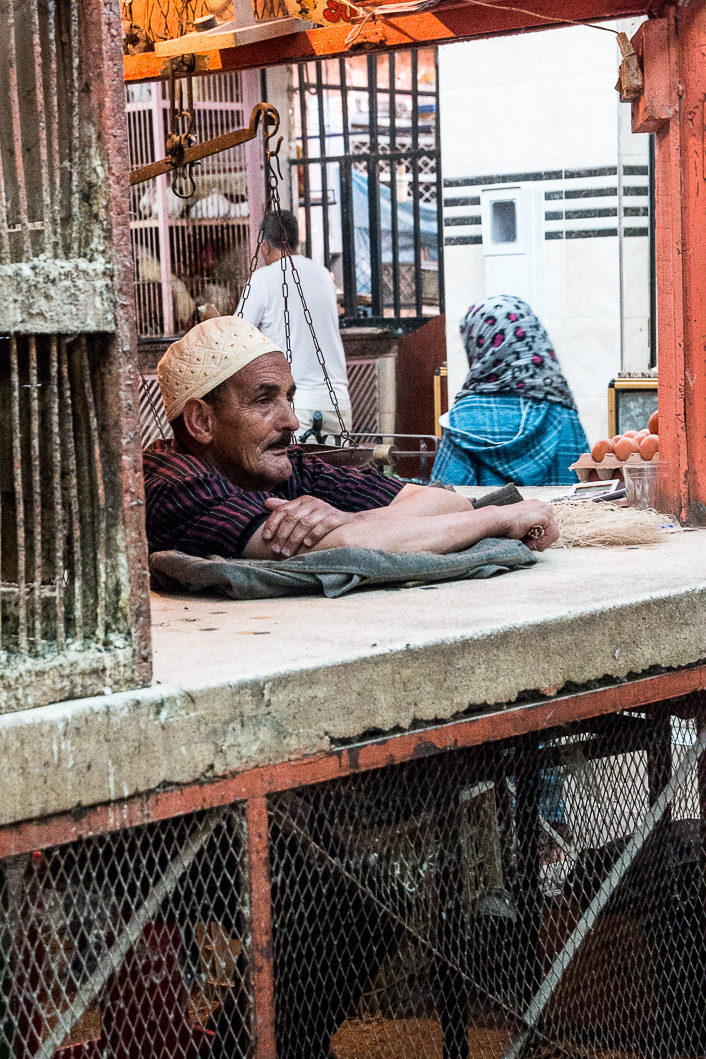 The markets in Marrakech are hidden. No open spaces with colorful stands, which would make little sense in view of the temperatures here. Everything is in market halls here. There are markets for fish, meat and poultry, for spices and for vegetables. You shouldn't be squeamish here, because if you want to buy a chicken, you buy a live chicken, which is then slaughtered, plucked and gutted for me before my eyes. Same with pigeons and rabbits. The people here see the whole animal, are not alienated by fillets in cling film from the supermarket. For some Europeans this is not easy to bear.
The spice market is different. Here a cloud of aniseed, roses and carnations sloshes towards me as soon as I enter. The first thing I learn is where to buy my spices. And where better not. Namely with the street vendors. Because the same applies here as everywhere in the world. Spices must be stored properly, i.e. airtight and dark, and not open. A spice mix is ​​not necessarily a bargain here either. If you want to buy saffron for a few cents, you can go for yellow. Good spices come at a price.

It was my wish to find the best Ras-el-Hanout mixture. Literally translated, Ras-el-Hanout means something like "the butcher's spice". These mixtures, consisting of up to forty individual spices, are also available for vegetables and fish and not just for meat. I learned from Pierre, the hotel manager of Dar Les Cigognes and my companion on the market that day, that it is best when the spices are put together and ground for me in front of my eyes. I want fewer cloves, but more roses, cardamom and various peppers. The list is long ... And at the end I have a small plastic bag in my hand that smells so amazing that I really want to rub it on myself. I buy some green harissa paste and eucalyptus and am eyeing the beautiful tajines a little. At this point in time, however, I do not know that I will still need something completely different, decisive. First of all, it goes into the kitchen. Hayat is already waiting.
The golden rules of making couscous
Never, really never buy ready-made couscous! Is the clear message. Ready-made couscous is no good, no Moroccan woman would ever buy ready-made couscous. Aha. In my mind's eye I can see the displays of my organic market. Hayat was going to have a laughing fit. Real couscous is homemade with durum wheat semolina, water, flour, oil and salt. She points to a large, flat ceramic bowl. "All you need is your hands". There's a big question mark on my face. But then she pours the semolina into the bowl, sifts the flour over it and adds some salted water and some oil. "Always work and turn with the ball of your hand," she shows me. The goal is to turn the semolina into ever larger lumps. More water is added, more oil. I keep turning and kneading. The lumps are getting finer and finer. Hayat is not yet satisfied. Continue kneading. She takes over and after a short time the semolina has turned into a pile of fine grains. Couscous! Now we just need a little water and let the grains rest for a while. Then the water is poured off.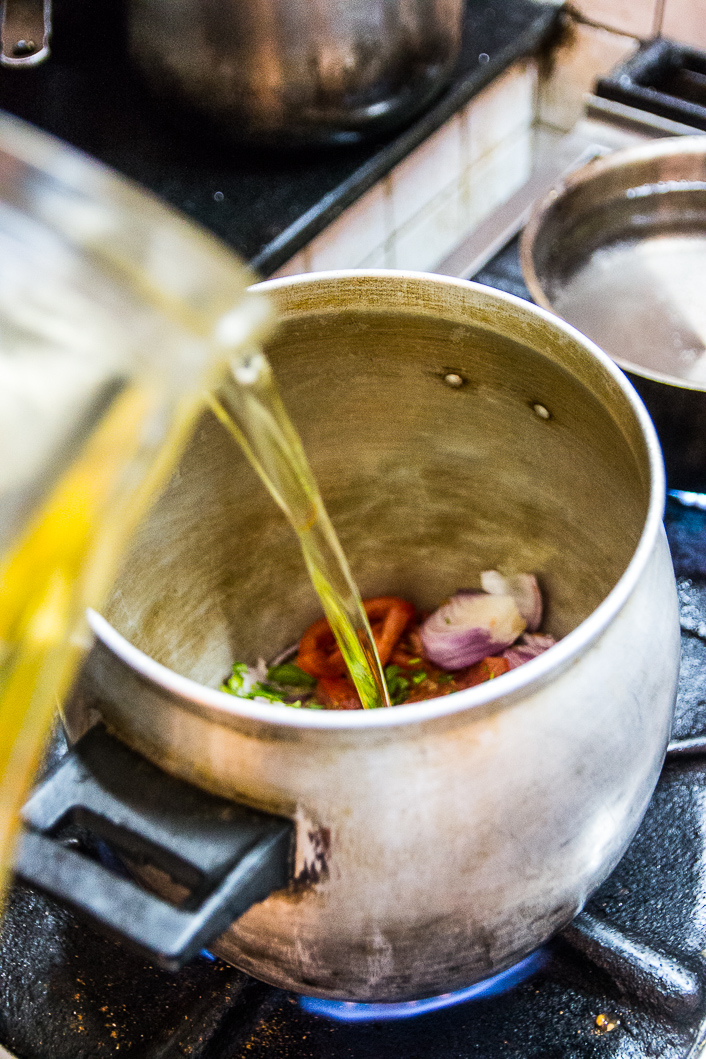 She heaves the pile into a steamer insert. If they don't fall out again, I want to know. No, she says and winks at me.
Couscous is never cooked, it is steamed in three steps.
The lower part of a couscousier, as the pot is called, which is actually a normal pot with a steamer, is filled with vegetables, water, herbs and a little oil. The steamer insert is now placed on it. No lid. So that would be done then, I think. However, this is a mistake. Because about 15 minutes later, Hayat takes the couscous down and pours it into the flat ceramic bowl. The couscous needs to be loosened. With the hands. She shows me how to do it. Reach inside, throw it up a little, sprinkle water over it and loosen it up with your hands. The couscous is steaming hot. I oil my hands, reach into them and a stabbing pain shoots from my hands up into the head. Damn it! Not so squeamish. I clench my teeth and loosen the couscous while Hayat grins. In between, a little cold water with a little salt and a few drops of oil is poured over it. Then the couscous comes back into the steamer. The whole thing has to be done a second time. I'm not really looking forward to it.
While the couscous continues to steam, she prepares the second part of my cooking lesson. Make filo dough yourself. Wait a minute ... wasn't there a little stand in the market where they got this dough? Why in the world didn't we buy it there?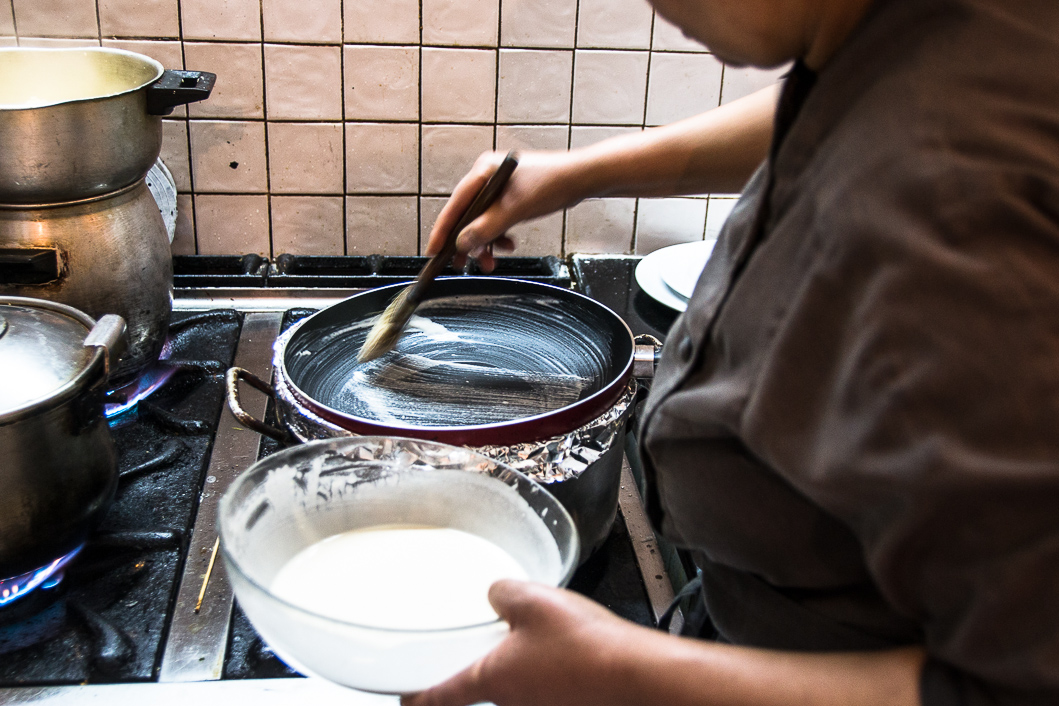 She wraps aluminum foil around the edge of a wide pot that she has previously filled with water. She presses a coated pan into it like a lid. I'll make the dough in it. She mixes a liquid dough with water, flour and a little salt. Then she takes a broad brush, dips it into the batter and quickly spreads it over the pan. The magic word here is being quick. If you are not fast, you tear holes in the dough. It takes just under a minute, then the finished dough is carefully pulled out of the pan with your fingers. My first attempts fail, but after what feels like dozens of attempts on the red-hot, steaming stove, I finally pull my first acceptable sheets of pastry out of the pan. I am proud of myself. The joy is short-lived, however, because I have to make about twenty of these sheets. Brush them with clarified butter in between. We need the batter for the pigeon pie.
Then I can try the couscous for the first time. It is divine! Just as airy and light as I wanted it to be. And at that moment it shoots through me like lightning - I need such a large, flat ceramic bowl. I don't have anything like it in my kitchen to make couscous with. And in an hour my taxi will come to take me to the airport. Pierre has mercy on me and sends one of his employees to the market to buy me such a bowl. Of course it is huge and of course it has no space in my suitcase. I'll have to strap them to my back along with my rucksack. Fortunately, the airline staff will be more gracious here in Marrakech.
Thank you Marrakech!
Ingredients for couscous (8 people):
300 g wheat semolina (semolina)
300 g sifted flour
100 cl olive oil (and a little more for the hands)
1 teaspoon salt
Address:
Cooking School at Dar Les Cigognes
Dar Les Cigognes
108, rue de Berima
Marrakech (medina)
www.lescigognes.com
[fblike showfaces = "false" width = "450" ​​verb = "like" font = "arial" locale = "de_DE"]