Why are Malaysian street cats so big
Actions and information
Here you can find information about some of our group meetings. If you click on the headings, you will find even more photos ;-)
10/10/2020 Apple harvest with the BUND
This year we helped the BUND once again with the apple harvest for the "Echt Dortmund Apple Juice". For this purpose, many voluntary helpers harvest different orchards every year. This year we were there with quite a small group due to the corona and were thus able to make our contribution to a record-breaking harvest of almost 8 tons (!) Of apples. Despite the work, which should not be underestimated, we had a lot of fun! And next year, as a precaution, we will put on bicycle helmets ;-)
09/26/2020 Thermoboxes for street cats
A lot has happened in Dortmund this year in terms of cat protection: since February 2020 there has finally been a compulsory castration and labeling for outdoor cats. This was an important and long overdue move by the city. The castration obligation is intended to prevent outdoor cats from multiplying uncontrollably and the offspring from living on the street without an owner. Dozens of applications have been made in recent years, which once again made it very clear that in animal welfare you sometimes really have to have a lot of staying power and stay on the ball. In Dortmund there are countless stray cats without a home, which are fed, captured, neutered and released again at various points by the cat protection association (long-term street cats can usually no longer be conveyed). We have converted thermal boxes for these street cats so that they have at least a dry and protected place to sleep in the cold winter months. (more)
09/12/2020 Squirrel feeding stations part 2: assemble
Today we assembled the wooden parts that we smeared and painted at the last meeting. A bit of muscle strength was part of it, but that shouldn't be a problem. In the end, each group member had a feeding station for their own garden or balcony. Although the wood was made weatherproof by the glaze, it is advisable to hang the feeding stations as protected from rain as possible and, if possible, not in the blazing sun. To make the squirrels aware of the offer, you can put a few nuts on the seat at the beginning. They quickly understand that they have to open the top hatch to get more goodies.
08/29/2020 Squirrel feeding stations Part 1: smear and paint
Autumn is just around the corner and we are finally building squirrel feeding stations again! In the last two years, the squirrels had a hard time due to the extreme heat - there was less food for them in many areas: the nut trees sometimes produced fewer nuts, and the shells were often simply empty or only contained small nuts. Fortunately, this summer wasn't quite as hot - a blessing for nature and animals. Nevertheless, we are of course happy to support our little furry friends with our feeding stations. It's just too cute to watch the squirrels help each other. The stations can then be filled with hazelnuts or walnuts, for example. Peanuts should be avoided if possible, as mold spores can quickly form inside the shells.
08/15/2020 Water bowls for wild animals
Since it has been very hot again in the last few days, we designed water bowls for wild animals, wild birds and insects. Last year we made beautiful drinking and bathing bowls for the garden / balcony. But they were too expensive to put on the street. It would be a shame if they were destroyed or stolen. Since we had plastic trays in our warehouse for years (we wouldn't have bought any plastic trays especially for them!), We designed them a little. Together with a small information sign and filled with a few stones (so that insects can also drink and the bowls become a little heavier), these bowls can then also be set up outside of your own gardens. Always in the hope that it will find imitators.
June 27, 2020 Collecting rubbish in Dortmund-Asseln
What is useful if the options are still relatively limited due to the corona? To collect the trash! Some of our group members have already done that in the last few weeks and today we went off again as a group. We also wanted to get to know the district a little, since we are new to Asseln and don't know our way around very well. So two birds with one stone. In fact, we didn't get very far in the 2 hours because there was (unfortunately) a lot to do for us. The weather also bothered us a lot. Collecting rubbish at 30 degrees is a bit exhausting ...
06/13/2020 Sniffer mats instead of VDH trade fair
Actually, the VDH fair "Hund und Katz" was supposed to take place on this very weekend, at which we are always represented with a booth where we explain our work and sell our great sniffing mats and Zergel. Since the fair is canceled due to the coronavirus, we wanted to at least stick to the topic for a while and immediately made sniffing mats for the next fair - whenever it will take place in these strange times. Mainly, however, this meeting was also about seeing each other again and chatting ;-)
CORONA BREAK :-(
07.03.2020 Visit of the slow loris (and other animals) at the Dortmund Zoo
The bear gang was once again able to experience a very special group meeting in the Dortmund zoo. We met Marcel Stawinoga, who founded the Plumploris eV association at Dortmund Zoo, an association for the protection and research of slow loris, which are often caught, smuggled, sold and illegally kept as pets in their homeland, the forests of South and Southeast Asia . The association set up a rehabilitation station for slow loris in North Sumatra, in which confiscated animals from illegal keeping can be prepared for the wild again and animals that cannot be reintroduced into the wild can be permanently housed in a species-appropriate manner. (more)
02/08/2020 Fur "fashion" through the ages
What the fur coat used to be, the fur collar is today. People who wear coats or jackets made entirely of real fur are (luckily) no longer seen as often. Unfortunately, accessories made of fur have increased enormously - fur collars on hoods are very popular, but also bobbles on hats and shoes. If you walk through the city in winter, you will discover such fur parts on almost every third jacket - which are often made of real fur, as it is tragically usually cheaper to manufacture than a well-made faux fur. We deal with the suffering of animals in fur farms, learn to distinguish real fur from fake fur and design a poster for the business office, with which we would like to point out what to consider when buying clothes.
January 25th, 2020 visit to the cinema: The secret life of trees
Sometimes the "worm" is in there: since many group members were unable to attend this date, we spontaneously decided to go to the movie "The Secret Life of Trees" by Peter Wohlleben with a small handful of people. A worthwhile film that allows another view of our trees, the forest and ecological connections.
04.01.2020 2nd vigil on the occasion of the DBA German carrier pigeon exhibition
Once a year, the German carrier pigeon exhibition takes place in Dortmund's Westfalenhalle - the world's largest and most internationally visited exhibition of postal and pedigree pigeons. As in the previous year, various animal welfare organizations and pigeon protectors formed a vigil right in front of the entrance to draw attention to the suffering of these animals. From the youth group, only two of the "old hands" came along, because standing around for hours in the cold is not for the young members and, unfortunately, we are repeatedly exposed to abuse from which the children should be protected. (more)
11/30/2019 Hedgehog protection in winter
When does a hedgehog need help? Then what should be done? What does a hedgehog eat? Whom can I contact? - All of these questions come up when you find a hedgehog. Often the finders are overwhelmed and many tips harm the hedgehogs rather than help. So that the members of the bear gang don't stand there completely haphazardly if they ever get into such a situation, we visit a family that regularly lets hedgehogs hibernate in need and who answer our questions. We were also able to get to know this year's prickly winter guest - and other permanent animal guests. (more)
11/16/2019 Manufacture of bird food cups and the like
There are many creative ways to help our garden birds find food. The animals need a lot of energy, especially in winter. You can help the animals through the winter with homemade fatty food. Since many of the food mixes you buy contain some constituents that are unpopular with birds and only serve as fillers, it is advisable to prepare the food mixes yourself. If, in the best case scenario, you already know which birds are frolicking in your own garden or on the balcony, you can of course adapt to them when choosing food. Or you can simply be surprised which bird species are attracted by the food cups and cones.
October 12th and 13th, 2019 VDH exhibition dog and horse
We were of course represented with a booth at this fair too and were able to bring our great works to the public. We did that with complete success, at the end of the fair we were really completely sold out. In the meantime there are also some commercial suppliers of sniffing mats, but many people still prefer to buy at a booth of the animal welfare association to support our work.
09/28/2019 Preparations for the VDH Dog and Horse Exhibition
It's that time again! The VDH trade fair "Dog and Horse" is just around the corner and we got creative so that we can fill our stand with plenty of dog dogs and sniffing mats. Our new members also threw themselves into the manual work with enthusiasm and are looking forward to selling the great works at the fair.
As always, the brightly colored Zergel and sniffing mats are really impressive and will surely go away like hot cakes ;-)
08/31/2019 tinkering cat toys part 2
Before the summer holidays, we closed halved kitchen paper rolls at the top and bottom and reinforced them with a lot of newspaper and paste. After the rolls were allowed to dry thoroughly, they were provided with small holes in which the treats can later be filled. Now they could be painted to your heart's content and that's exactly what we did! Since we made enough rolls, the cat holder could take rolls home with us, the remaining rolls will be taken to our stand at "Hund und Katz" next year.
08/25/2019 Species Protection Day at Dortmund Zoo / Tinker information stand and leopard masks
The species protection day takes place once a year in the Dortmund zoo. There are special tours that explain which species are threatened with extinction, which animal species suffer particularly from hunting and which measures are also being taken in zoos around the world to save animal species from extinction. Customs is also represented every year and provides information about illegal holiday souvenirs. It's always terrifying to see what people are smuggling in their suitcases. We treat the subject of the "zoo" in the group quite critically and certainly don't see anything through rose-colored glasses. And there are still many things to complain about in the Dortmund zoo. As an animal welfare association, we cooperate very successfully with the zoo and have already been able to contribute to various improvements for the animals. [more]
07/13/2019 Making cat toys part 1
Because we always produce a lot of dog toys for the dog fairs, but there are also some cat owner families in our group, we have finally made cat toys ourselves in response to multiple requests. When it comes to toys, cats are often wonderfully frugal. Quite a few cat owners report that their animals often find the boxes of their new, expensive toys more interesting than the toy itself. Even a crumpled piece of newspaper can often keep a cat busy and happy. We therefore also use simple means and make great treat rolls for cats from empty kitchen paper rolls. You can find out how we do it here.
06/29/2019 Manufacture of drinking bowls for birds
Summer is just around the corner. And even if this summer will hopefully not be as hot as the last, it is still important to provide the animals in the garden with sufficient fresh water. You can do this with very simple plant coasters or plates, but you can also design them nicely, e.g. with mosaic stones. Simply glue the mosaic stones into the coasters, fill with grout and wipe clean afterwards. If you put stones in the bowls, not only birds and hedgehogs, but also insects can enjoy the water supply. The water should be changed daily and the bowls cleaned regularly!
06/15/2019 Climate demo "Parents For Future"
Since we meet on Saturdays, we have not yet been able to participate as a group in one of the regular "Fridays For Future" demonstrations. So we joined a demonstration organized by "Parents For Future" on a Saturday. Because in the end it is not important who organizes the demos, but that you take to the streets for climate protection at all and that the politicians are finally awake. And at the same time, especially on this Saturday, the students were able to show the doubters that they are not just going to demonstrate in order not to have to go to school. And it also rained at the beginning ;-)
June 1st, 2019 Visit to Vivi's animal protection garden
The bear gang was allowed to visit a very special place: Vivi's animal protection garden. Here, dear Vivi takes care of all kinds of animals in need of help. Especially now during the breeding season it is teeming with bird chicks that have ended up with Vivi for various reasons, are raised there lovingly and appropriately and then released back into the wild. Wild birds and city pigeons are primarily to be found here, but Vivi also takes care of other wild animals such as fawns or fox cubs if, for example, they are not yet stable enough to be transported to the appropriate foster home. The youth group was allowed to look over Vivi's shoulder at her exciting work and saw and learned a lot in the process. (more)
May 18 and 19, 2019 VDH fair "Dog and Cat"
The Westfalenhallen Dortmund open their doors twice a year for the two large trade fairs "Dog and Cat" and "Dog and Horse". At the "Hund und Katz" in May, the bear gang was again represented with a sales booth, together with an information booth from the animal welfare association. The children successfully and enthusiastically sold their self-made sniffing mats and Zergel and were able to fill up the group fund properly. Of course, there was also enough time to browse the many stalls and visit the dog and cat exhibitions. And like every year, we fell crazy again (continue)
May 11, 2019 Create and design ear-pecker quarters
Ear peasants unfortunately have a bad reputation - but they actually belong to the useful helpers in the garden, because they prefer to eat aphids. The contradicting name given to the little crawling animals because in the Middle Ages ground ear pincers were used against ear disorders - not because they crawled in ears or tickled our ears with their small tongs on the abdomen. So if you have aphids in the garden, you can support the settlement of the little helpers with the help of quickly produced, pretty ear-pecker quarters. Here you can find out how the quarters are made and how they should be set up or fixed.
April 6th, 2019 Trashtag Challenge No. 2, Lindenhorster Straße / Nordstadt
Since there is far too much rubbish lying around in Dortmund, the bear gang took part in the "Clean Dortmund 2019" campaign as an independent collection group, regardless of the last collection campaign. Not only did we do something good for the environment, but we were also able to counteract some prophecies of doom that claim that students should, for example, rather collect rubbish than go to the Friday for Future demos on Fridays. We can do both, because some of the youth group also take part in the Friday demos.
03/23/2019 Trashtag Challenge No. 1, Möllerbrücke and Westpark
Cleanup 2019 - of course we followed the call to volunteer for a rubbish collection campaign around the Möllerbrücke. The commitment was really impressive: a total of around 80 people - including many children - collected around 680kg of rubbish. For the relatively small collection radius, that's really a lot.
It is really sad that for many people the way to the nearest rubbish bin is basically too far and the garbage - especially in Westpark - is simply left behind.
02/23/2019 and 03/09/2019 Preparations for VDH - making dog toys
This year we were particularly early with our preparations for our stand at the VDH fair "Dog and Cat" in May. We have made plenty of sniffing mats and dog delicacies so that we still have enough items on offer on day 2 ;-) For our bestsellers, the sniffing mats, a lot of fleece strips are simply knotted in the sink mats. For dogs, it is a great nose job to sniff treats in the sniffing mats afterwards.
01/26/2019 Manufacture of fatty food for birds
Since we still had a lot of seeds & Co. left and it is just really frosty outside, we decided to go back to the birdseed production. This time we also wanted to think of the birds that eat from the ground or from bird feeders, as the tits prefer to go to the hanging food cups (but bullfinches, robins and woodpeckers have also been sighted). Blackbirds, for example, can be made happy if you lay out the food on the ground. To do this, this time we have filled the fatty food in molds that can be laid out outside or made small fat cakes to hang up.
January 12th, 2019 Visit to the Aquazoo Löbbecke Museum Düsseldorf
The museum reopened in 2017 after being refurbished for four years for 21 million euros. We took the opportunity and wanted to see whether the money was well invested in the animals. Not as much had changed as originally expected, but most of the modernizations also took place behind the scenes in the technical area. The skeleton of a sperm whale in the foyer of the museum, which was filled with 6 kg of plastic in the stomach area to draw attention to the marine pollution, was impressive. A whale with 6kg of plastic in its stomach washed up in Indonesia in November 2018.
05.01.2019 vigil against the pigeon sport at the Westfalenhalle
On the occasion of the German carrier pigeon exhibition 2019, the well-known city pigeon project Dortmund Körne-West called for a vigil to draw attention to the suffering of the carrier pigeons. Of course we followed the call. Since it could not be completely ruled out in advance that there might be disputes with carrier pigeon breeders, only the older youngsters Nora and Liam came to the vigil, who had already been present at the pigeon rescue at Mülheim main station in October. You can find the report and photos of the vigil here.
01.12.2018 Manufacture of feeding cups for birds
We are for year-round bird feeding. For us, this means that we naturally provide appropriate fatty food for the birds in winter. After a very generous cup donation, we opted for great food cups again, which were already well received by the birds last winter. Here you can find out how to make the cups and which grains we used
16./17./18.11.2018 VDH exhibition "Dog and Horse"
On Saturday and Sunday, the bear gang was also represented with their sales stand at the exhibition. The sniffing mats in particular are selling well, which is why we are sometimes still working on the stand to meet the request.
Unfortunately, we notice very stressed dogs at the fair year after year. It is often not understandable to us why the visitors take their obviously stressed animals with them to this fair. The animals often pounce on the water buckets that we provide for them at our stand. And not infrequently they are dragged on by the keepers :-(
03.11.2018 Preparations for the VDH exhibition "Dog and Horse - Making Dog Toys
A large dog show takes place twice a year in the Westfalenhallen in Dortmund. Of course, the animal welfare association and its inspectors always keep a watchful eye to ensure that everything is going well. At our information stand, the youth group regularly sells dog toys they have made themselves - in this case Zergel and sniffing mats. But for that you have to be hardworking in advance and produce a lot.
13.10.2018 Pigeon rescue at Mülheim main station
With two older youths of the bear gang we followed the call of the Dortmund-Körne West city pigeon project, who needed help in rescuing pigeon chicks at Mülheim main station. There were track roof renovations and construction work to be done, although some pigeon parents were still looking after their chicks there. With the approval of Deutsche Bahn and in consultation with the veterinary office and the Mülheim animal welfare association, we were able to save eight chicks from certain death, which were sitting in their nests made of excrement and lots of rubbish in places that were difficult to access above the platform. It was really not easy for us because the chicks were looked after by their parents. In principle, according to the Animal Welfare Act, the young birds may not be separated from their parents until they are independent. But since the construction workers were literally behind our necks, everyone would be (more)
09/29/2018 Aqua Expo days at the racecourse
On one of the three expo days, the bear gang was represented with a booth at the aquarium fair. In addition to a handicraft offer for children, you could win great prizes on our wheel of fortune to match the topic. Of course, we also used the time to take a closer look at the exhibitions. We saw some large aquariums, some of which were really well equipped, but especially the exhibition of discus fish made us wonder. So that the animals to be chosen can be seen clearly, they spent the entire time individually in their tanks, which contained nothing but water. While being looked at by hundreds of people, they had no way of retreating other than a small filter. Whenever a fish was chosen, really loud music played from the loudspeakers in the immediate vicinity. We find it regrettable that in such exhibitions it seems that often only the pretty exterior of the fish is important and that too little consideration is given to the needs of the stress-prone animals.
15.09.2018 Apple harvest with the B.U.N.D.
While only a few apples could be harvested last year due to the April frosts, the yield this year was even greater. However, since a lot of windfall has already fallen from the trees due to the heat and drought, this year's apple harvest was brought forward a bit and helpers were urgently needed. We didn't have to be told twice, so we did a lot for what we believe to be the best apple juice in the world from the Dortmund orchards.
August 26th, 2018 Conservation Day at Dortmund Zoo
Also this year the Dortmund Zoo invited to the conservation day. On this day, among other things, the main customs office in Dortmund provides regular information about more than questionable "holiday souvenirs" made from animal or vegetable materials. From exotic shells to handbags made of crocodile leather or powder made from rhinoceros tusks or tiger bones, unfortunately, cruel things can be found in the luggage of tourists year after year. As every year, the animal welfare association was represented with a stand: a raffle for the big ones and animal masks for the little ones.
06/30/2018 and 07/14/2018 build insect hotels
Since some group members have not yet built an insect hotel and others wanted to build a second one, we simply repeated our project from last year without further ado. The death of insects is still an important issue. Politicians and legislators, for example, are asked to ban (certain) insecticides. Nevertheless, we can all help on a small scale by planting lots of pollen- and nectar-rich flowers and offering the insects nesting opportunities!
May 26th, 2018 Visit of the city pigeon project Dortmund Körne-West
We were able to look over the shoulder of a really great project at this group meeting. Katrin Müller and her team of volunteers look after city pigeons who live under a bridge in Dortmund Körne. They feed the intelligent and social animals with food that deserves to be called food in contrast to the garbage that they are otherwise forced to eat, exchange the eggs for plaster eggs and even clean the bridge from around the nesting sites Pigeon droppings, which - especially with CORRECT feed - cannot be that harmful, otherwise the material there would have been attacked by years of colonization by the pigeons before the city pigeon project became active there. (further)
11.-13.05.2018 booth at the VDH fair "Dog and Cat"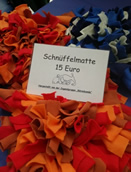 This year, too, in the run-up to the "Hund und Katz" trade fair, we again produced quite a few dog toys, which we then sold on site. Our sniffing mats are a big hit year after year and sell like hot cakes. As always, we sold at the information stand of our animal welfare association, whose inspectors of course also checked on site this year to make sure that everything was going well. And this year too many dog ​​owners had to be proclaimed who left their animals in the car in summer temperatures because they allegedly did not know that only dogs with a valid vaccination certificate and verifiable rabies vaccination are allowed into the halls.
05.05.2018 Kirchentag "Human - Animal - Creation"
Do animals need personal rights, which are anchored in the Basic Law, in order to protect them from the brutality and cruelty of human behavior and killing? The fourth Dortmund Church Congress takes up a highly explosive topic and sticks its fingers deep into the wound of a human world that abuses compassionate living beings as it sees fit in order to produce and consume 300 million tons of meat annually. At the Kirchentag, people from different worldviews, artists, theologians, animal welfare and animal rights activists discuss which demands must be made together and how we can live in order to get out of the spiral of violence against all of co-creation. The youth group was happy to support this event with an information stand.

04/22/2018 Planting our pallet insect hotel
Last year we built a great insect hotel out of old pallets, but we were a little late to plant forage plants for the bees and the like - we have now made up for that. We planted lavender around the insect hotel and distributed a seed mix of bee forage plants. It is frightening that there are even special pollen-free-grown flowers (seeds) to be bought in specialist shops - so that, for example, the beautiful white tablecloth is not "contaminated" with pollen when the picked bouquet is on the table. Unfortunately, no thought was given to the insects.
07.04.2018 visit to the cinema "Our Earth 2"
With the members of the bear gang who stayed at home during the Easter holidays, we treated ourselves to a visit to the cinema and were fascinated by the great pictures from the film "Our Earth 2". Absolutely impressive close-ups or a fight between bull giraffes, as it has rarely been filmed, make this film absolutely worth seeing. And even more on a huge cinema screen than in a home theater. At the latest after such impressive pictures it should be clear to everyone that we should do everything in our power to protect this planet.
13.01. and 10.02.2018 Production of various feed sources for birds
It stays cold outside and the birds find less and less food. There is now a lot to be said for year-round feeding of the birds, but at least in winter it should be our moral duty to support our feathered friends. In order to try something new in addition to our tried and tested food bells, we have "misappropriated" cups, all sorts of baking pans and even pine cones and filled them with fat-food mixtures that we put together ourselves. A combination of coconut fat and broken peanuts, sunflower seeds, hemp seeds, linseed, oat flakes, raisins and dried insects is particularly suitable, since soft food eaters in particular hardly find anything in winter. The animals are also very happy about sliced ​​apples or the even more popular pears that are laid out outside.
November 30, 2017 Presentation of the Dortmund Children's and Youth Environment Prize
The Bärenbande are very happy that they are again one of the winners of the Dortmund Children's and Youth Environment Prize this year. Our contribution consisted of a pallet insect hotel and bird feeder. And the work has paid off: The bear gang will receive € 390 for their project! The award ceremony took place in Dortmund's town hall and was moderated by Mayor Birgit Jörder (picture). The theme for next year is: The earth has no thick skin - we protect the soil. The bear gang will definitely take part again!
11/18/2017 Manufacture of thermal boxes for feral cats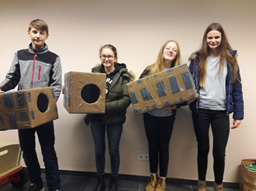 The winter is coming. And while we make ourselves comfortable at home with our four-legged friends, many cats have to brave the cold outside. The cat protection association supports these cats, which are mostly offspring of outdoor cats, e.g. with special feeding places. But thermo boxes can also be of great help when it gets really cold outside. We built such boxes and handed them over to the cat protection association so that they can be set up in suitable places. It is very important, however, that as a cat owner, you absolutely have your outdoor cats neutered so that there are not more stray cats running around outside! This is a responsibility that every cat owner has!
04/11/2017 The suffering of the geese
Especially now in the run-up to Christmas, many people do not want to do without their Martin's or Christmas goose. Many people often do not know how much suffering this entails for the geese. Only a small proportion of the geese eaten here come from Germany, but most of the geese come from Eastern Europe, where the keeping conditions are often catastrophic. And unfortunately the subject does not end there. In France, for example, foie gras is still produced and is also sold in Germany. Unfortunately, the more than questionable tradition takes precedence over animal welfare. And the origin of down in particular can often not be traced back completely. And many geese still have to endure the agony of live plucking. It is best to forego all of these products! The bear gang has created an information poster for this, which is now hanging in the office of the animal welfare association.
October 7th and 21st, 2017 Construction of bird feeders
We also want to do something about the decline in bird populations. Even in summer our feathered friends can no longer find enough food and now autumn / winter is just around the corner. That's why we build beautiful and practical bird feeders with which we want to support the birds (not only) in winter. We want to report our observations at the feeding stations to NABU in January, which regularly calls for bird counts. The bird feeders will also be part of our contribution to the aforementioned environmental award!
09/24/2017 Environmental festival at the House of Nature in Herne
On this Sunday there was not only voting, the environmental festival also took place at the Haus der Natur in Herne. We supported the vegetarian food stand of the Animal Welfare Youth NRW, with whom we are closely networked and whose trips are often attended by members of the bear gang. Various environmental organizations provided information about their work or offered great hands-on activities for young and old.
09.09.2017 Visit of the butterfly house in the Maxipark Hamm
In keeping with our current top topic "Insects", we visited the butterfly house in the Maxipark in Hamm. In the largest tropical butterfly house in North Rhine-Westphalia (around 450 square meters) live up to 80 different species of butterflies from the tropical regions of South and Central America, Africa, Thailand, Malaysia and the Philippines. The butterflies fly around freely and offer (hobby) photographers great motifs. Of course we had our cameras with us!
July 8th and 18th, 2017 Construction of a pallet insect hotel
After hearing so much about the decline in insect and bird populations, we decided to do something practical for the insects - in the form of a palletized insect hotel on the Big Tipi grounds. We have built a great insect hotel from old pallets and lots of (natural) materials. At the same time, this will also be our main contribution to the Children's and Youth Environment Prize 2017 of the city of Dortmund, which this year takes place under the motto "Here life rages - animals and plants conquer the city".
June 17, 2017 Visit to a private rescue and reintroduction station
An absolute highlight was once again the visit to Ewald Ferlemann in Dortmund-Dorstfeld, who runs a private collection and reintroduction station for (predominantly) wild birds. Through loving, self-sacrificing and professional work, dozens of wild birds (but also sometimes squirrels and rabbits) that are injured or orphaned are cared for and, in the best case, released again. However, some animals feel so comfortable there that they have simply moved in permanently.
May 19 to 21, 2017 booth at the VDH trade fair
Throwers of treats, sniffing mats, tug knots, cat fishing rods and cat surprise boxes - all made in-house - we successfully sold at the fair.Our things were so well received that we even had to take pre-orders when we were sold out - almost every visitor had to pass our stand in the foyer ;-)
May 13th, 2017 Visit to the hobby beekeeping at Phoenixsee
We were able to spend a few particularly exciting hours with Esther Saalmann and her protégés. She runs a hobby beekeeping in Dortmund-Hörde and has given us all kinds of interesting facts about bees. We were literally up close to the helpful insects and took a close look at everything! Thank you for the great day!
April 8th, 2017 Handicrafts of dog toys for the VDH fair
In May, the annual "Hund und Katz" trade fair will take place again in the Westfalenhallen Dortmund. The animal welfare association will also check that everything is in place this year, because unfortunately there are always exhibitors who do not adhere to the animal welfare requirements and "prettify" their animals, for example with hairspray, hair lacquers or hair colors. Or leave your animals in the car when the temperature is far too high. But we will also be represented with a booth where, among other things, we will sell dog toys that the children and adolescents of the bear gang have made. The proceeds will go to our group fund.
25.03.2017 "Clean Dortmund" campaign - collecting rubbish
Every year the EDG calls on Dortmund's citizens to collect rubbish and report wild rubbish dumps as part of the "Clean Dortmund" campaign. This year the bear gang also took part in the campaign and diligently collected rubbish in the Fredenbaumpark. Equipped with grippers, gloves and garbage bags, we found not only the "normal" garbage, old chairs, strollers and various parking signs that were damaged by some vandals.
02/04/2017 Anti-hunting demo at the "Jagd & Hund" trade fair
The "JAGD & HUND" trade fair, which takes place in Dortmund's Westfalenhallen, is Europe's largest hunting trade fair. At the same time, the "FISCH & ANGEL", a trade fair for anglers, takes place.
Both put the killing of sentient creatures into perspective as an exciting experience of nature and a hobby. On the other hand, we have set a clear example by repeating our "Lustkiller" campaign.
01/21/2017 Preparation of anti-hunting demo
In preparation for the anti-hunting demo on February 4th. In front of the Westfalenhalle Dortmund we had to paint T-shirts so that we could be seen from afar!
03.12.2016 Build squirrel feeding stations
A great way to do something good for the little rodents AND to make great observations at the same time is offered by squirrel feeding stations that you can easily make yourself. Whether in the garden or on the balcony, squirrels really like to use the food sources. They can be filled, for example, with purchased nuts, but it is much nicer to collect nuts, cones, corners and the like yourself in autumn, which the cute animals can then enjoy.
11/19/2016 building hedgehog houses part 2
The houses built two weeks ago are getting an animal- and nature-friendly protective coating so that they can also be set up permanently outside. Whether in natural colors or colorful - there are no limits to creativity. A roof made of tar paper also keeps everything nice and tight from above. A partition inside also protects against e.g. cats.
These two copies can be purchased for € 15 each! If you are interested, please contact us using the contact form.
November 8th, 2016 Award ceremony of the Dortmund Children's and Youth Environment Prize
We are very pleased that the bear gang is one of this year's winners of the Dortmund Children's and Youth Environment Prize! Under the motto "Make new out of old" we have made a lot of great things (see campaigns or photos) and the effort has paid off! 345 euros flow into our group account and are of course used for animal welfare! We want to take part again next year - the motto "Plants and animals are conquering the city" invites the bear gang to do so!
November 5th, 2016 Building hedgehog houses part 1
Also this autumn there will be underweight hedgehogs who would not survive the winter without human help. Hedgehogs that are born in late autumn can no longer reach the minimum weight of approx. 500 to 1500 g required for hibernation, depending on the size of the hedgehog. Hedgehogs that wander around during the day, injured, sick and underweight, as well as hedgehogs found in frost, should definitely be taken into the house. We build hedgehog houses for this, which can be used both for nurturing and as attractive accommodation for the garden. All important information is available at www.igelschutz-do.de!
October 16, 2016 Leopard Day at Dortmund Zoo
The Dortmund Zoo (and many others as well) celebrates the leopard as "Zoo Animal of the Year", as leopards are endangered or even extinct almost everywhere in their natural habitat. Without the use of zoos and animal parks and their conservation breeding programs, the survival of many animal species is often not possible. But even in captivity, keeping it as appropriate to the species as possible is an absolute must! Thanks to the support of the Groß-Dortmund Animal Welfare Association, the leopards in Dortmund Zoo received a new, more spacious enclosure 3 years ago, which offers a good basis for a successful base. At the stand of the bear gang, children could make leopard masks to celebrate the day.
October 8th, 2016 Visiting Gut Eversum in Olfen
The youth group spent a lovely autumn day at Gut Eversum in Olfen. We looked at the many different animals, of course also here with a critical eye, because especially in small zoos, species-appropriate keeping is often not given. But for the most part we liked it very much. The monkeys were certainly a special experience, they even did gymnastics on our shoulders and heads. The cutest animals on site were certainly the meerkat babies, who romped around in the sun.
August - September - October: Handicrafts for the Children's and Youth Environment Prize Dortmund
This year we finally got involved again for the Dortmund Children's and Youth Environment Prize. The motto "Make new out of old" left plenty of room for creativity. We decided to make a lot of different things out of garbage to show people what else you can conjure up from supposed garbage! We have made all kinds of things from old bottles, cans, crown and wine corks, wood scraps and garden waste (see photos). The award ceremony is on November 8th. Fingers crossed!!
04.06.2016 district festival "grains in bloom"
If time allows, we are also represented at district festivals, for example. People can stock up on information material, we provide information about the current campaigns of the Animal Welfare Association and for the children we usually have our popular wheel of fortune with us - with animal welfare quizzes, of course!
May 22nd, 2016 Visit of the wildlife protection association KiTiNa in Werl
Once again it was time to visit the wildlife protection association KiTiNa (KinderTiereNatur) in Werl. The operator helps with a lot of passion and expertise, including injured, orphaned or sick wild animals. At the moment two orphaned fox pups are in her care or in that of a fox mother. Just a great facility. We were happy to lend a hand and help prepare the garden for the (unfortunately to be expected) fawns.
As every year, Europe's largest dog show took place in Dortmund's Westfalenhallen. In addition to almost 9,000 dogs from 35 nations, there was also a lot to see at the more than 170 stands. Of course we went through the exhibition with a critical eye. Because hairspray is often used, for example, to give the dogs the finishing touch. We asked ourselves whether the dogs are allowed to be dogs at all ...
April 9th ​​and 23rd, 2016 Construction of mini insect hotels
The bear gang does its part to protect insects, which are becoming less and less common, especially in cities. The various wild bees are particularly threatened! But butterflies, ear pimples and wood lice can also make themselves comfortable. We have built small works of art that are now hung in gardens or on balconies. It's also exciting to see who is moving in! The insects use the hotels in the summer months as a nesting aid and in winter as a retreat.
04/03/2016 Season opening at the Big Tipi
Not only because we have our group room there and the TierSchutzVerein supports animal care, but simply because it's a great party, the bear gang of course took part in the season opening party at the Big Tipi. Thematically it was all about the Middle Ages. Our youth group helped among other things with the sheep shearing.
March 19, 2016 Visit to the exhibition "Miracles of Nature" in the Gasometer
With the part of the group who did not say goodbye for the Easter holidays, we visited the "Miracles of Nature" exhibition in Oberhausen. Absolutely impressive nature shots awaited us there. The gigantic globe that was hung and illustrated in the middle of the gasometer was particularly impressive. A visit is definitely worth it!
05.03.2016 Construction of nest boxes for birds
After we had already delighted the birds with our feeding bells and bottles in winter, we have now built them pretty nesting boxes for spring. The opening sizes can easily be varied so that different bird species can inhabit the boxes. Ours have an opening of 3.2 cm and are particularly suitable for sparrows and tits.
02/20/2016 visit by Angelika's Nagerheim
With the youth group, we visited a very special employee of the Animal Protection Association - in her rodent home. There, in addition to breeding, guinea pigs in need or orphaned are nursed and, if possible, put back into good hands. But of course we didn't just want to stroke guinea pigs, we wanted to find out exactly how best to keep them. Because many owners often make feeding mistakes or they do not keep their darlings in a species-appropriate manner - often out of ignorance.
09./23.01.2016 anti-fur campaign "fur is embarrassing"
The subject of fur is unfortunately still very topical and that is why we are of course participating in the current anti-fur campaign of the German Animal Welfare Association with a photo campaign. Many people don't even know that the accessories on their jackets, hats or shoes are made of real fur. We explain how the animals suffer in fur farms and how you can tell whether a fur is real or not (unfortunately, a well-made artificial fur is often more expensive than a real one).
05.12.2015 Manufacture of feeding bells for birds
Because there is always such a nice muddy game and because there are a lot of hungry birds, we not only produce the feeding bottles but also our well-tried feeding bells. A mixture of birdseed and fat is put into ceramic pots through which a cord has been previously pulled. The feeding bell is ready!
05/11/2015 Manufacture of feeding bottles for birds
Not only in winter, but especially then, it is necessary to support the birds in their foraging. In the big cities in particular, it is becoming increasingly difficult for our feathered friends to find enough food. That is why we make feeding bottles out of old PET bottles, which offer plenty of space for feed and thus make our contribution to helping the birds a little.
10.10.2015 Nature conservation work in Dortmund-Brechte
We can tackle it! So we did not allow ourselves to be asked twice to help the BUND with this year's autumn mowing on a wet meadow. So put on rubber boots and mow or scavenge the meadow, pull down the crop and cut back trees that are sprouting. This is important work so that the wild orchids can grow again next year. The before and after effect was clearly visible. More pictures under "Photos".
09/26/2015 Tinker treat slingers and sniffing mats for dogs
To prevent boredom among our four-legged friends, we have made great sniffing mats and treats throwers. Because especially in the cold season - when the walks are perhaps not that long - it is very important to keep the dogs busy at home. Often great things can be made from very simple materials. In this case something for the nose and the brain of our fur noses.