Experience report: As a physicist in the McKinsey management consultancy
On squeaker.net, Jan Veira reports on his experiences at the world's largest management consultancy McKinsey, on the rocky road to the right MBA program and what it's like to be a student again after years as a consultant.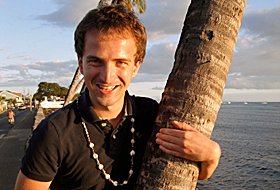 Jan Veira during his MBA in Berkeley, California
"Try something completely different" - that was the reason I gave my friends when they asked me why I was doing an internship at McKinsey as a physicist. At that time I would never have thought it possible that I would be sitting in Berkeley as an MBA student five years later. The first two years were shaped by my work as a consultant. At the same time, I was preparing my educational leave, which McKinsey offers its fellows to do an MBA or doctorate. Granted, it was a time-consuming and sometimes arduous process, but it was well worth it.
As a physicist in consulting
When I started my internship at McKinsey in 2005, I was about to finish my degree in physics. For me it was just a test at first, because my business knowledge was quite limited and I wanted to know whether the consulting profession would be right for me at all. To find out, an internship is really ideal. What I didn't expect: I was actually able to be useful to clients by "simply" applying the analytical skills I had acquired in physics to a new problem area. Encouraged by this, I started as a fellow in McKinsey's Berlin office in the summer of 2007. The possibility of an educational leave after two years already played an important role. If your employer gives you the chance to complete top training and then return to your job - who wouldn't take it?
Countdown to the MBA leave: It pays to start early
McKinsey gives its fellows up to three years to complete an MBA or doctoral degree. The salary continues in the first year, you have to finance the rest of the year yourself. With the MBA, the company also pays part of the often steep tuition fees. It was clear to me early on that an MBA was the best choice for me to supplement my knowledge in a meaningful way. I can only advise everyone: start preparing early, because it is tough. In particular, the high GMAT score required for a top school and the various application essays require a lot of time. Most of the time, however, was choosing the MBA program that best matched my goals. I have attended countless information events in order to filter out the right one. But I received valuable support from all the McKinsey colleagues who were currently on educational leave or who had already completed their MBA. Your experiences helped me to find the right university. I was most interested in technology, innovation and entrepreneurship, so I chose the MBA program from the University of California, Berkeley. And after more than a year of exploring, preparing and applying, in April 2009 I finally got the acceptance for my dream MBA.